Hours After Gay Marriage Ruling, Politico Op-Ed Calls for Legalized Polygamy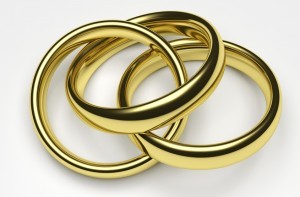 Man, that slope was slippier than it looked.
Just hours after the Supreme Court ruled that gay marriage must be the law of land, Politico ran an op-ed calling for the full legalization of polygamy. Indiana doctoral student Frederick DeBoer argues that "the moral reasoning behind society's rejection of polygamy remains just as uncomfortable and legally weak as same-sex marriage opposition was until recently."
"Now that we've defined that love and devotion and family isn't driven by gender alone, why should it be limited to just two individuals?" he writes. "The most natural advance next for marriage lies in legalized polygamy—yet many of the same people who pressed for marriage equality for gay couples oppose it."
DeBoer agrees with Chief Justice John Roberts that the reasoning in Obergefell v. Hodges could just as easily apply to polygamous marriages as gay marriages. He notes that now that child-rearing has been rejected as the rationale for marriage, traditional arguments against polygamy have been weakened.
He also accused progressives of opposing polygamy out of political concerns. "We must insist that rights cannot be dismissed out of short-term interests of logistics and political pragmatism. The course then, is clear: to look beyond political convenience and conservative intransigence, and begin to make the case for extending legal marriage rights to more loving and committed adults. It's time."
The most recent poll on the subject found that only 14% of Americans think polygamy is morally acceptable. About 1 in 5 Democrats support polygamy, compared to 6% of Republicans.
[Image via Shutterstock.com]
——
>>Follow Alex Griswold (@HashtagGriswold) on Twitter
Have a tip we should know? tips@mediaite.com