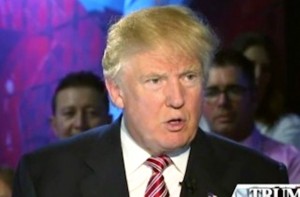 House Democrats took advantage of an IRS hearing Wednesday to press the embattled IRS commissioner about Donald Trump's taxes, The Hill reported.
The hearing was on whether or not IRS Commissioner John Koskinen should be impeached.
"Is there anything that would prohibit someone from releasing their tax returns, if they want to, because they're under audit?" Rep. Jerry Nadler asked the commissioner.
"No," Koskinen said.
The IRS has already said there is nothing about an audit that would prevent someone from releasing their tax returns.
Trump and his surrogates have repeatedly said the candidate will not release his tax returns because he is under audit. A blunt editorial in the New York Times Wednesday called Trump's excuse "stupid."
Trump has not released tax returns for years no longer under audit and, furthermore, has not produced proof that he is even under audit.
Trump's critics have noted that without his returns it is impossible to know for sure what his business connections are, how much he donates to charity, and how much he is actually worth.
Every major party presidential nominee since 1976 has released his or her tax returns. Trump's rival Hillary Clinton has released tax returns going back nearly four decades.
Another Democrat asked if such an audit of a presidential candidate could be suspended during the campaign, but Koskinen said the commissioner had no authority in such matters.
Nadler also asked if a person could use their tax-exempt charitable organization to pay off personal debts, as Trump did with his Trump Foundation, according to a Washington Post report. Again, the commissioner replied that this was not permitted.
—
Sam Reisman (@thericeman) is a staff editor at Mediaite.
Have a tip we should know? tips@mediaite.com