House Republicans Hold Minority Outreach Meeting In 'Burwell Plantation' Conference Room
House Republicans are taking a well-deserved break, after week of tough legislating, for their annual retreat, not to be confused with their retreat on the fiscal cliff. This year's getaway is taking place at Virginia's Kingsmill Resort, which is located on the former site of the Kingsmill Plantation, which was owned by Lewis Burwell III. Still, it is the South, so you can't really throw a rock without hitting some site with a racist past, and what are Republicans supposed to do, find a resort in the Northeast, Northwest, Midwest, or Abortiofornia? Besides, it's not like the place currently honors the site's slave past, right?
According to The National Review Online's Robert Costa, though, the party whose last presidential nominee correctly blamed minorities and women for magically appearing on Election Day decided to hold a meeting about outreach to minorities and women in a space called the "Burwell Plantation Room."
From Wonkette's Rebecca Schoenkopf:
Thank you Robert Costa, of the National Review Online, for making our morning. "Source shows me sched, shakes head: '10:15 am, Friday, Burwell Plantation, Coalitions-Discussion on Successful Comms w/ Minorities & Women.'" So that makes TWO Republicans who realize there could be a problem with "optics" when the GOP holds a panel on "successful communications" with minorities, at a plantation. Congratulations Robert Costa and "source"! Here, if you would care to peruse it, is a kooky list of the Burwells' slaves. But we feel like the organizers of the GOP retreat at Williamsburg, which includes this happy-fun-time field trip, might have missed some opportunities?
Just to be completely accurate, the retreat is being held at a former plantation owned by conservative billionaire Phil Anschutz, in a room named for the plantation owner's family, and for the plantation, or maybe plantations in general. The "Burwell Plantation" room is actually two rooms, the "Burwell Room," and the "Plantation Room," which, when combined, form the Voltron-esque "Burwell Plantation" room: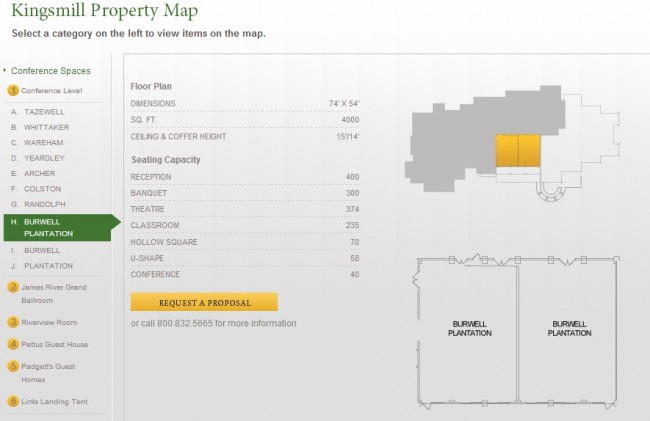 Just because you're already holding your retreat on the site of a former plantation doesn't mean you can't make some effort. As you can see, the Republicans could easily have held their minority outreach meeting in the Tazewell Room, unless that was already booked by John Kerry.
Have a tip we should know? tips@mediaite.com