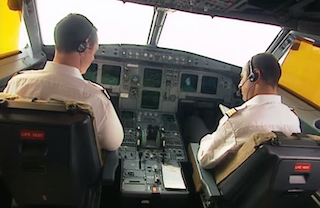 With the revelation that Germanwings first officer Andreas Lubitz locked his superior out of the cockpit and then guided flight 4U 9525 into the mountains of the Alps, killing all 150 people aboard, focus has turned in part to the Airbus A320's reinforced cockpit door.
According to Marseilles Public Prosecutor Brice Robin, the pilot can be heard on the black box recording trying to wrench open the door, with no response from Lubitz.
An instructional video, embedded below, shows the procedures for entry and exit from the cockpit. Ordinarily the door is automatically locked, and can be opened by the pilots within the cockpit. A phone intercom connects the cabin to cockpit, and pilots can allow entry if a flight attendant uses the proper initiation sequence; if they don't, the pilots can lock the door, possibly preventing access to a terrorist.
RELATED: Who Is Germanwings Co-Pilot Andreas Lubitz?
If the pilot manually locks the door, it seizes the door shut for five minutes, and renders the access keypad in the cabin useless; this may have been what Lubitz used to keep his superior out of the cockpit. (The plane was in descent for approximately eight minutes.) The door can still be unlocked from inside the cockpit.
In the case of crew incapacitation, access can be granted by entering an emergency code on the cabin keypad. However, this would cause a buzzer to go off inside the cockpit, which presumably would have been captured by the black box recording. Robin gave no indication that such a sound was heard while Lubitz sat silently in the cockpit on the plane's eerie descent.
Obviously this is just the beginning of the investigation into what happened during the final minutes of the flight, and information is necessarily complete. Robin said there was nothing pointing to the crash having been the result of a terrorist attack, but he also declined to use the word "suicide."
Watch the video below:
[h/t Haaretz]
[Image via screengrab]
——
>> Follow Evan McMurry (@evanmcmurry) on Twitter
Have a tip we should know? tips@mediaite.com