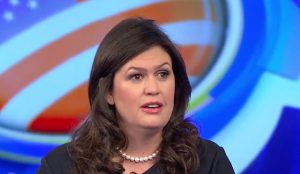 On Friday, news that former press secretary Sean Spicer resigned over infighting about President Trump's decision to hire Anthony Scaramucci as the new White House Communications Director, meant a promotion for Sarah Huckabee Sanders — who is, FYI, like Kellyanne Conway, Betsy DeVos and Ivanka Trump, a woman.
And no doubt the president's loyal cohort of supporters ready to deny and deflect accusations of sexism by name-dropping Trump's working relationships with the aforementioned women, will readily take immediate advantage of Sanders' appointment, whenever it comes.
The issue of gender has always made for hot controversy around the Trump administration, and the debate will likely resurface with the president's decision to promote a woman to a high-level position.
That being said, it's worth noting how the women of Trumpland all, in some way or another, use their platforms to hurt other women. The unfortunate reality is that very few women will ever have the influence of Ivanka, who uses her status as First Daughter to promote her brand while exploiting the working mothers of her overseas factories. Few will ever have the influence of DeVos, who uses her position as education secretary to convene with groups that bully rape victims. And few will ever command the audiences of Conway and Sanders, who use their platforms to deny Trump's sexism.
But on top of all of this, their mere existence in Trumpland makes meaningful, productive dialogue about the serious issue of misogyny within this administration almost impossible. Trump's supporters are able to tune out legitimate criticisms of Trump — accusations of sexual misconduct and assault, his inappropriate praise or criticism of women's appearances, his ignorance and intolerance on issues of women's health — with simple, effortless name drops.
His supporters will never listen, they'll never learn, and they'll never hold Trump accountable, or demand answers or better behavior from him, and women across the country will suffer for this.
It certainly doesn't help that Trump's women make this all so easy. Because they, as individuals, benefit from Trump's favor and confidence, they're willing to overlook how just about every woman who isn't under Trump's wing is hurt by him, and worse yet, they're willing to lie to help secure their power, rather than help lead honest discussion about Trumpland's internal and external misogyny.
One tragic example of this exists in Trump's divorce with first wife Ivana Trump. Ivana initially accused Trump of marital rape and physical violence before retracting these accusations. At the time the court documents surfaced in 2015, Trump's lawyer deflected by simply denying that marital rape was even possible.
As for Ivanka Trump's deflections of her father's sexism, perhaps there is some grain of truth in how President Trump, as a businessman, hired women to high-ranking positions before this was common practice. Some who worked with him even have glowing testimonies of what it was like to work with him.
But this legacy is darkened by accusations of sexual harassment by many of these women, including an attorney who says Trump called her "disgusting" for breastfeeding, and female Apprentice contestants who claim Trump made inappropriate comments to and about them.
Additionally, by his own admission, Trump has said that watching his first wife Ivana become an authoritative figure working at casinos he owned was what ruined their marriage. For all Ivanka's protestations that her father is a good man who trusts and respects women, many of his words and actions seem to directly contradict this.
With the decision to promote Sanders, expect the topic of gender and the Trump administration to surface once again, and with this discussion, expect plenty of tokenism. Expect Sarah Huckabee Sanders to respond to every question about imminent future questions about Trump sexism by lavishing praise on the obviously open-minded, pro-woman boss who entrusted her with this high-level position. And expect Kellyanne to bring up something about how women don't care about casual sexism from their president because ISIS and violent crime and jobs, but in either case, expect valid criticisms of Trump's sexism problem to be wholly tuned out.
[image via screengrab]
This is an opinion piece. The views expressed in this article are those of just the author.