How to Watch Michigan-Ohio State Big 10 College Football Showdown Live Stream Online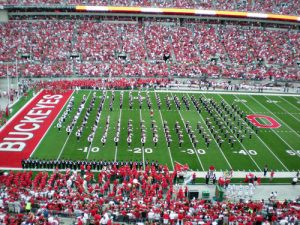 It's finally time. Despite Ohio State's loss to Penn State on Oct. 29, and Michigan's loss to Iowa on Nov. 12, the entire Big 10 season has, almost since the beginning, felt like it was always going to be about this one game: Ohio State vs. Michigan in Columbus.
For Michigan, it's simple. A win Saturday gives them a Big 10 East title. For Ohio State, it's more complicated. In addition to a win, they need Michigan State to defeat Penn State in Happy Valley on Saturday in order to win the division and earn a spot in the conference title game. Still, given their No. 2 ranking, they should qualify for the college football playoff even if they don't capture a Big 10 crown.
All eyes will be on Michigan quarterback Wilton Speight, who missed last week's game against Indiana with a shoulder injury. He has been practicing throughout the week, and is a game time decision to start. If he can't go, backup John O'Korn would get the nod.
No. 2 Ohio State. No. 3 Michigan. Two elite teams. Two top coaches. One playoff spot (likely) on the line. This is the regular season college football game of the year, and it is not to be missed.
Kickoff for is set for 12:00 p.m. ET. Chris Fowler and Kirk Herbstreit have the call. You can catch all the action live on ABC, or stream it online free with a cable subscription via WatchESPN on your pc, phone, or tablet. The Watch ESPN app can be downloaded from the Apple App Store, Google Play, and the Windows Store.
[image via aceshot1 – Shutterstock.com]
Have a tip we should know? tips@mediaite.com