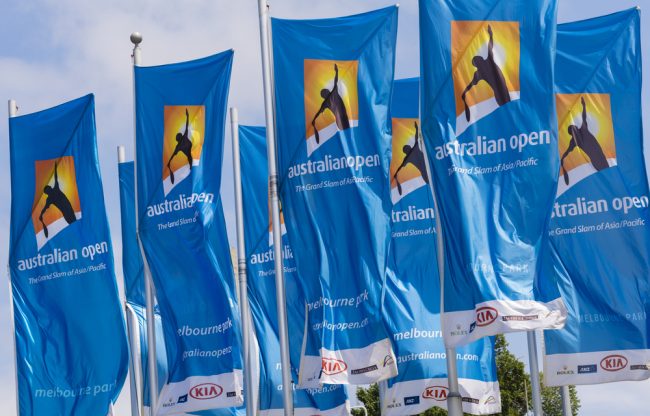 We haven't devoted much attention to the Australian Open thus far here at Mediaite. But that doesn't mean we haven't been watching, and it doesn't mean we haven't been captivated by the turn-back-the-clock performances given by four tennis legends over the past two weeks — Roger Federer and Rafael Nadal on the men's side, and Venus Williams and Serena Williams on the women's side.
We'll get to Roger and Rafa and the improbable renewal of one of the greatest rivalries in the history of sports tomorrow. But for now, the spotlight belongs to the Williams sisters — who are meeting in a Grand Slam final for the first time since 2009, and the ninth time overall.
Serena's presence in the finals is hardly a surprise. She's now made the finals in eight of the past ten Slams — having won five of them, pending tonight's result. If she wins, Serena will top Steffi Graf and stand alone atop the all-time list of women's majors won in the open era with 23. A victory would add yet another sterling accomplishment to an already remarkable ledger.
But the story on the women's side over the past two weeks has been the incredible resurgence of Venus Williams. We noted earlier that the last time the Williams sisters met in a Grand Slam final was in 2009, when they faced off at Wimbledon. Well, that was the last time that Venus was in any Grand Slam Final. She's a seven-time Major champion, but at 36, it appeared as though her best tennis was well behind her. Not so, as she plays to win her first ever Australian Open on Saturday — which would leave her a French Open win away from the career Grand Slam.
Serena has the 6-2 advantage in their Grand Slam finals meetings, a 9-5 edge in Slam matches, and a 16-11 record overall. This one should be fun.
The match begins at 3:00 a.m. ET. ESPN will air it live in all time zones. It will also be streamed online, via WatchESPN, free with a cable subscription. The Watch ESPN app can be downloaded from the iTunes, the Google Play store, and the Windows store.
[image via ymgerman – Shutterstock.com]
Have a tip we should know? tips@mediaite.com