'FAKE NEWS': Trump Slams 'Dishonest' New York Times by Again Perpetuating Blatant Lie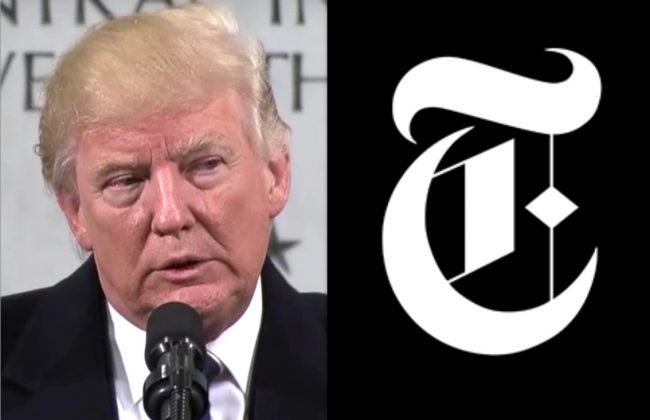 The President of the United States woke up this morning in the People's House and decided to whip out his unsecured Android device to fire off a few good tweets railing against The New York Times, and in the process perpetuated a blatant lie that was riddled with typos.
It would appear as if the most powerful man in the world has a lot of free time on his hands these days, choosing to rail against the Gray Lady for what he considered to be "dishonest" coverage. And here's the kicker: he full on alleged that one of our nation's most venerable journalistic institutions founded in 1851 was — as he eloquently put it — "FAKE NEWS."
The failing @nytimes has been wrong about me from the very beginning. Said I would lose the primaries, then the general election. FAKE NEWS!

— Donald J. Trump (@realDonaldTrump) January 28, 2017
Thr coverage about me in the @nytimes and the @washingtonpost gas been so false and angry that the times actually apologized to its…..

— Donald J. Trump (@realDonaldTrump) January 28, 2017
…dwindling subscribers and readers.They got me wrong right from the beginning and still have not changed course, and never will. DISHONEST

— Donald J. Trump (@realDonaldTrump) January 28, 2017
We can be reasonably sure of course that Trump himself wrote the tweets considering the typos that appear in the second one. As we know, proper spelling was not as high a campaign promise as building that wall.
But it's Trump's big claims here that the New York Times, "actually apologized to its…dwindling subscribers and readers," that have already been debunked as false.
The Times has never apologized to its readers for the Trump phenomenon. It did, however, issue an poignant letter to its readers in mid-November from publisher Arthur Sulzberger Jr. and executive editor Dean Baquet. "As we reflect on the momentous result, and the months of reporting and polling that preceded it, we aim to rededicate ourselves to the fundamental mission of Times journalism," Sulzberger and Baquet wrote on November 13th.
But apologize? No, not even close. In fact (and not alternative fact), Trump made this same ludicrous claim on the day of the Times letter:
The @nytimes sent a letter to their subscribers apologizing for their BAD coverage of me. I wonder if it will change – doubt it?

— Donald J. Trump (@realDonaldTrump) November 13, 2016
PolitiFact called it demonstrably false, writing at the time, "Trump's tweet is a distorted and over-the-top description of a Nov. 13 letter to readers from the New York Times' publisher and executive editor."
The Gray Lady is just the latest media organization to get the "fake news" treatment from the President of the United States; he battled CNN's Jim Acosta before the inauguration at a press conference and used the same phrase to describe their efforts. "Fake News," of course, was a phrase used to describe the litany of conspiratorial headlines that would often emerge on social media platforms last year, but it has been warped into a weapon of partisan rancor spearheaded by none other than POTUS himself.
Of course, the accusations of fake news didn't seem to be a problem earlier this week when Trump gave an interview to Maggie Haberman of that very same New York Times. "These are the most beautiful phones I've ever used in my life," he was quoted as saying. But hey, as long as he can rile up his base to view the media as the "opposition party," then he's doing his job, right? I can't imagine there's very much else for him to worry about these days.
So… how's that whole pivot thing working out for ya?
—
J.D. Durkin (@jivedurkey) is an editorial producer and columnist at Mediaite.
This is an opinion piece. The views expressed in this article are those of just the author.