How to Watch the Cardinals-Panthers NFC Championship Game Live Stream Online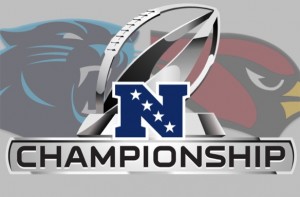 The debate rages on as to whether or not Carolina Panthers quarterback Cam Newton is really the MVP of the National Football League this season. After all, Newton finished the regular season with 3,837 years in the air — plus 636 on the ground — with 45 combined touchdowns, and led his Panthers to a 31-24 victory over the Seahawks last week. Regardless, he will have to face a staunch Arizona Cardinals squad that declaratively won the NFC West this season with a 13-3 record.
But then again, neither team has had to play just hours after a snowstorm dropped two feet of snow onto Charlotte, NC.
The Cardinals head coach Bruce Arians is in consideration for his third career Coach of the Year award heading into today's NFC Championship game at the Bank of America Stadium. The hometown Panthers are favored by 3 in the matchup, as Cardinals quarterback Carson Palmer is arguably coming off of his best career season. Arizona knocked off the Green Bay Packers on the strength of wide receiver and team veteran Larry Fitzgerald last week, who caught 1,215 yards in the regular season.
Oh, and if you're an Arizona faithful, there's no way that you've forgotten how last year's playoff run ended at the hands of Carolina. The Panthers upset the 11-5 Cardinals last year in the wildcard round of the NFL playoffs.
Kickoff for the game is Sunday at 6:40 p.m. ET. The game will be broadcast on FOX, Westwood One Radio, and Sirius XM Radio. Fans can also log-on to NFL Game Pass to stream the game on their desktops on-demand. NFL Mobile applications are also another way to stream the game between Arizona and Carolina, which can be downloaded from the Apple App Store, Google Play, and the Windows Store.
NFL Sunday Ticket games can also be watched online at nflsundayticket.tv.
Check out the above game preview from ESPN, and enjoy the game and the countless Oikos commercials featuring Cam Newton!!
Have a tip we should know? tips@mediaite.com