Howard Kurtz & Lauren Ashburn: 'Who Cares If The White House Is Mean To Reporters?'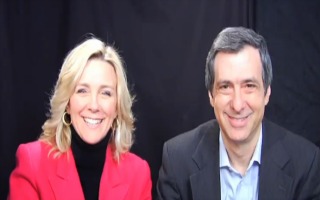 The Daily Beast contributors Lauren Ashburn and Howard Kurtz posted a video to The Daily Download on Tuesday in which they weighed in on the blow up between Washington Post reporter Bob Woodward and the White House. They observed that "nobody cares" about a reporter claiming to be bullied by the White House. The actions of a bullying White House, however, is distressing.

RELATED: Axelrod Mocks: 'Bob Woodward Feels Intimidated By Gene Sperling? Please!'
Kurtz noted that the "little dust up" that Woodward had with senior White House official Gene Sperling "bores" his co-host, Ashburn. She did concede that the flood of political reporters who followed Woodward by registering their complaints with how they are treated by the White House "is a story."
They cited a report by the National Journal's Ron Fournier who said that he was forced to drop a White House source due to the consistent abuse he suffered in their correspondence.
"It does speak to the larger issue of, 'who cares that the White House is mean to reporters?" Ashburn said.
"Nobody cares about that," Kurtz agreed. "But, if the collective attitude of the people who run this country at 1600 Pennsylvania is to smack down reporters and try to intimidate them and try to bully them into not reporting what they should be reporting, then that does matter to the country."
"It does, but I can't imagine that a reporter would be bullied," Ashburn noted. She said that Woodward's response shows that bullying reporters is a losing game for politicians.
Kurtz reminded her that Woodward is among the most famous reporters in the nation and may have avenues available to him that younger reporters do not.
Watch the segment below via The Daily Download:
> >Follow Noah Rothman (@NoahCRothman) on Twitter
Have a tip we should know? tips@mediaite.com