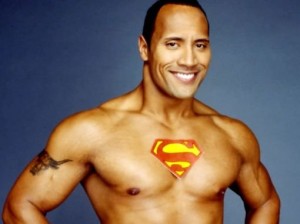 When it comes to top-secret government operations, there's a lot that we regular Americans don't know. For example, did you know that every time an enemy the country is taken down, the stars of the biggest movie from the past weekend are the first to be told? At least, that's the way it seems as a number of bloggers have seized upon a vague tweet by Fast Five co-star The Rock as proof that he knew about Osama bin Laden's death "nearly 45 minutes" before the rest of us. Sorry, Aimee Teegarden. If you wanted a personal call from the CIA, you should have made sure Prom opened bigger.
So, how did this story, which will assuredly be one of the funniest footnotes in future textbooks, come about. Well, at 10:24 last night, long before President Obama took to the podium, Dwayne "The Rock" Johnson sent out this Tweet: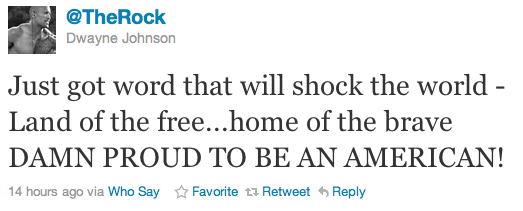 Soon, the website Bad Ass Digest picked up on the Tweet and their post was picked up by Movieline and so on and so on.
While, the idea that The Rock has some secret government information is inarguably awesome (and, yes, "bad ass"), anyone who was watching the news or following Twitter last night knows that word of Bin Laden's death had reached most people way before it ever left Obama's lips. So, I scrolled back through the thousands of Tweets on my newsfeed (No, I don't follow that many people. There was just a whole lot of Tweeting last night) to what I remember as being the first real confirmation from someone in the know: a Tweet from Donald Rumsfeld's Chief of Staff, Keith Urbahn.


But when did Urban Tweet that out? 10:24. The exact same time as The Rock.
So, does The Rock have a friend who made a lucky guess or is he capable of smelling what the government is cooking? Perhaps we'll never know but, either way, bad ass.
Side note: Speaking of professional wrestling and Osama bin Laden's death, if you haven't seen this video of wrestler John Cena announcing the news to a packed crowd of WWE fans last night, do yourself a favor and watch right now.
(h/t The A.V. Club)
Have a tip we should know? tips@mediaite.com