'I Wanted Real Answers!' Hannity Calls Out Megyn Kelly Over Claims That Pro-Trump Hosts Were 'Acting'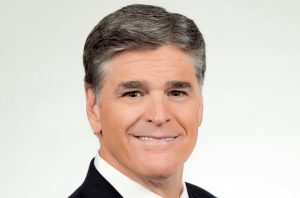 Earlier today, Fox News host Megyn Kelly appeared on MediaBuzz and made the claim that many pro-Trump hosts at various networks were "acting" when they posed tough questions to Donald Trump. While she wouldn't name names, she said that she could confirm that numerous hosts would tell Trump beforehand that they would ask critical questions in an effort to gain some credibility.
One of Kelly's colleagues apparently thought she was talking about him today, and took to Twitter to defend himself while asking Kelly to reveal names.
No idea who @megynkelly is talking about. When I asked ?'s about Justices, The wall, Refugees, Obamacare, economy etc I wanted real answers! https://t.co/AZxax2rpur

— Sean Hannity (@seanhannity) November 20, 2016
I would love to know who was "Acting". https://t.co/AZxax2rpur

— Sean Hannity (@seanhannity) November 20, 2016
Hannity also added the following tweet, though it isn't clear if he was throwing shade at Kelly with it or not.
I never asked a question from a TelePrompTer in my life. I cannot speak for others. https://t.co/OSs0sO9tDS

— Sean Hannity (@seanhannity) November 20, 2016
He also added another one, stating that he's transparent and wants to know who she's talking about.
Curious who she was referring to. I am transparent, I want to defeat Isis, protect the homeland and get people out of poverty and working! https://t.co/tranPp7y2k

— Sean Hannity (@seanhannity) November 20, 2016
Now, this isn't the first time Sean Hannity has taken offense to comments made by Kelly that he felt were shots at him. Last month, Kelly mentioned that Trump had retreated to safe spaces like Hannity's show, which led to Hannity firing back on Twitter.
The two would later make up, posing for a photo with the caption "it's complicated."
Hannity's program continues to be one of the highest rated on cable news. Friday's ratings showed Hannity was the number one rated cable news program in the 25-54 demographic, pulling in 761,000 viewers in the demo and 3.1 million overall.
UPDATE 7:06 PM ET: After publication of this piece, Hannity tweeted it out and reiterated his questions to Trump were because he wanted "real answers." He also seemed to hit back at Kelly's remarks that some journalists and hosts were offered gifts by Trump.
I'm just curious. All year long I talked about the number of people not working in poverty on food stamps I wanted real answers and got them https://t.co/62F0etYnxS

— Sean Hannity (@seanhannity) November 20, 2016
I would also like to know what people were offered by DT, I was never offered a thing. Never stayed at a DT property played a DT golf course https://t.co/62F0etYnxS

— Sean Hannity (@seanhannity) November 20, 2016
Never played a DT golf course. To be clear. https://t.co/62F0eufYpq

— Sean Hannity (@seanhannity) November 20, 2016
[image via screengrab]
–
Follow Justin Baragona on Twitter: @justinbaragona
Have a tip we should know? tips@mediaite.com