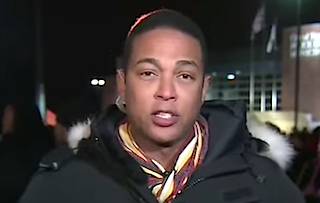 A few days after they roasted his on-air "screw-ups" and interesting fashion choices, TMZ caught up with CNN's Don Lemon as he was returning from the Thanksgiving holiday to ask him about one comment he made on the ground in Ferguson that struck several viewers as inappropriate. Lemon mostly just seemed baffled that TMZ considered him famous enough to cover, but did share some insight into what sparked him to say, "Obviously, there's a smell of marijuana in the air."
"I don't understand why you guys are covering me, I'm just a newscaster," Lemon said, smiling. As for the reaction to his marijuana comment, he said, "That was a little crazy, I didn't get that."
"I was just talking, there were a million things going on and everyone's hanging on one word," he continued. "It's flattering that people hang on every word I say," he added, but he didn't see what made that comment stand out so much. He said he only made the comment because a guy walked right by him smoking a joint at that moment.
Mediaite reached out to Lemon to see if he had anything to add to this explanation. He replied with this comment:
"What I really meant was there's the obvious smell of marijuana in the air. But at the time I was being tear gassed and I wasn't particularly focused on every single word. Had I not been tear gassed or in the middle of gunfire I might have said it more eloquently. But unfortunately that was not the case. It really meant nothing."
The one word that seemed to attract the most attention was "obviously," implying that the Ferguson protest would "obviously" include marijuana use. But as Lemon reiterated to Mediaite, he did not intend the comment to come out that way.
Below is a sampling of the response he got from fellow journalists on Twitter:
Don Lemon just said "obviously there's the smell of marijuana in the air too." Obviously?? Come on.

— Annie-Rose Strasser (@ARStrasser) November 25, 2014
"Obviously there's a smell of marijuana in the air." — Don Lemon continuing to be just the worst in so many ways. My god man.

— David Larkins (@LarkinsWSun) November 25, 2014
"Obviously there's a smell of marijuana in the air is well." @donlemon on @CNN

Wait, why is that obvious?

— Brad Gerick (@BradGerick) November 25, 2014
Don Lemon: 'Obviously there's the smell of marijuana as well.' Obviously?

— Jeffrey Goldberg (@JeffreyGoldberg) November 25, 2014
He is the worst. RT @agolis
"Obviously there's the smell of marijuana as well." – Don Lemon on CNN. Obviously, Don?

— Clara Jeffery (@ClaraJeffery) November 25, 2014
Something about @donlemon saying there was the scent of marijuana in the air really pisses me off #Ferguson

— Nikki Ogunnaike (@NikkiOgun) November 25, 2014
Don Lemon has found several more marijuana cigarettes in Ferguson. He performed multiple citizens' arrest. In other news…

— jeremy scahill (@jeremyscahill) November 25, 2014
Watch video below, via TMZ:
And watch the original comments below, via CNN:
[Photo via screengrab]
— —
>> Follow Matt Wilstein (@TheMattWilstein) on Twitter
Have a tip we should know? tips@mediaite.com