If Early Fan Reviews Are Any Indication, New Star Wars Will Be First Movie to Break $3 Billion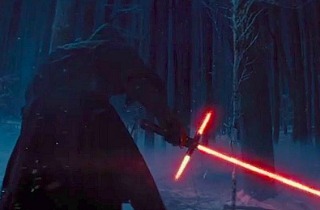 Reviews–at least those of the unofficial variety from fans via Twitter–for the newest edition of the Star Wars saga are now providing a glimpse into what hundreds of millions of people worldwide can expect when the movie is released this Friday.
And the verdict appears to be — (drumroll) — that we've got a winner on our hands. One Tweet from a moviegoer at the premiere particularly caught my eye via filmmaker Brett Morgan. Who's Brett Morgan? The director behind the ESPN 30 for 30 documentary: June 17, 1994…a tremendous look back at the myriad of unrelated sporting events happening across the country almost simultaneously that day leading up to and during the infamous O.J. Simpson chase. What's truly impressive is Morgen provides it all without the use of a narrator, depending on local and national media clips instead to the tell the story. To that end, when Morgen offers up an opinion on anything when it comes to films, he commands–at least to me–the upmost respect.
Here's his take along with some other notable fans and media members below:
#ForceAwakens delivers on every level.

— Brett Morgen (@brettmorgen) December 15, 2015
The performances and humor elevate #TheForceAwakens & are amongst the best in the series. The new actors are a welcome add esp Daisy.

— Brett Morgen (@brettmorgen) December 15, 2015
#ForceAwakens delivers on every level.

— Brett Morgen (@brettmorgen) December 15, 2015
How long do we have to wait until Episode 8?

— Brett Morgen (@brettmorgen) December 15, 2015
1st Star Wars review: it was epic, awesome & perfect. The cast was stellar. JJ killed it!

— RainnWilson (@rainnwilson) December 15, 2015
Star Wars premiere just letting out now. A LOT of smiling faces. #StarWarsForceAwakens

— Matthew Belloni (@THRMattBelloni) December 15, 2015
There's a new hero in town, in a movie that DELIVERS. Cried like a baby, whooped like a teen! #StarWarsForceAwakens pic.twitter.com/apo0EHr7EA

— Rob Lowe (@RobLowe) December 15, 2015
Holy crap, that Star Wars #TheForceAwakens is so good in the best old-school way! #StarWarsPremiere

— shonda rhimes (@shondarhimes) December 15, 2015
When I first heard that Star Wars was getting another reboot, I rolled my eyes and saw it as another glorified moneymaking gambit. Note: back as a 6-year-old, I really liked the original Star Wars without really understanding the story in 1977 (Vader bad, Han, Luke and the annoying princess good was the basic math), loved The Empire Strikes Back (arguably the best Part II of all-time) and found Return of the Jedi to be fine albeit a bit hokey.
The eye-rolling more resulted from the forgettable prequel trilogy of 1999-2005. Part I (or IV in real time), The Phantom Menace, was painfully tedious. Part II (or V in real time), Attack of the Clones, felt almost unnecessary. The third installment (Revenge of the Sith) was pretty good, but Hayden Christensen (as unconvincing as a future Vader as humanly possible) and Natalie Portman (see: Overacting) were just horrible casting choices and the dialogue throughout just brutal. So if those three movies couldn't pass the test, and the upcoming trilogy was missing a slightly important character in Vader, how the hell was this going to be anything but an easy billion for Disney to make because of the built-in branding, hype and nostalgia alone? Answer: Hiring J.J. Abrams to direct and terrific casting (without the distraction of a big star) to lead the way.
Thankfully, by most accounts, I got this one wrong (won't be the last time), as the reviews leaking out from those who saw advanced screenings are overwhelmingly positive well beyond the few examples provided above. And as a result, say hello to the first $3 billion dollar movie in history (and perhaps $4 billion). The arrival at that number is quite simple: Fast and Furious 7 made just over 1.5 billion at the box office earlier this year. Are you telling me The Force Awakens–with lines forming two weeks in advance over several blocks–can't easily double that number? Unlike Fast and Furious, which is generally watched by younger audiences, Star Wars will attract those who loved the original trilogy (who are now in their 40s, 50s and 60s), new audiences born in the 21st century, and basically everyone in-between (context note: only James Cameron's Avatar and Titanic have broken the $2 billion mark).
The movie hits theatres this Friday. Director J.J. Abrams revitalized the Star Trek movie series many thought couldn't be brought back to life. It seems he's done the same (and then some) with the Star Wars franchise as well.
The first $3 billion — or even $4 billion — movie is almost here. And given the struggles Hollywood has had lately (three of the last five years saw declines at the box office), fans creating an even bigger buzz for the big premiere this Friday is very welcome news for an industry in need of some.
— —
Follow Joe Concha on Twitter @JoeConchaTV
This is an opinion piece. The views expressed in this article are those of just the author.