'I'm Not Going to Answer!': Oakland Warehouse Landlord Gets in Incredibly Tense Must-See Interview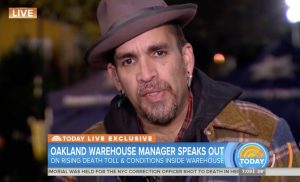 Derick Ion Almena, the landlord of the Oakland Warehouse that caught fire this weekend killing at least 36 people in a mass casualty tragedy, spoke with Tamron Hall and Matt Lauer of the NBC TODAY Show Tuesday in an incredibly raw and honest TV interview that was cut short.
Almena, the landlord and creator behind what was known as the Ghost Ship Collective, was defensive and combative with the NBC anchors during his live shot from Oakland, where he broke down and repeatedly apologized for his actions. "What am I gonna say to that? I can barely stand here right now."
The NBC anchors pressed him at times; Lauer asked directly, "Who should be held accountable for the loss" of life inside the warehouse? Lauer furthered by noting that "It's a fair question," in light of the unspeakable tragedy.
Almena defended the art collective — where artists performed, shared their art, and also lived — by saying "We made music, we created art… it was a dream."
"According to the city it was not under code," said Tamron Hall, who pressed Almena on claims that he never paid money towards necessary repairs or ensured the safety of the residents and some have alleged since the tragedy.
"This is a mass grave. I'm only here to say one thing: I'm sorry," he said. The NBC producers and anchors were forced to suspend the interview when it became clear that Almena was unable to answer their questions under the visibly difficult circumstances. One prior resident, said Hall, alleged that Almena, "knew it was dangerous, that [he] profited from this, and [he] never spent a dime on anything but partying."
"I'm not going to answer these questions they way you're presenting them!" he shot back. "I didn't do anything ever in my life that would lead me to this moment!"
Watch the harrowing interview above via the TODAY Show.
—
[image via screengrab]
Have a tip we should know? tips@mediaite.com