In Facebook Video Florida TV Host Says Dallas Shooter Feels Like a 'Martyr'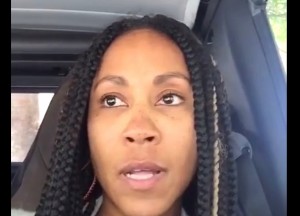 Kalyn Chapman James, a TV host at WPBT2 in South Florida, released an emotional Facebook video in which she described grappling with feelings that the Dallas shooter seemed like a "martyr."
James, who in 1993 became the first African-American woman crowned Miss Alabama, published the video on Facebook Sunday.
In the video, a tearful James can be seen sitting in her car after leaving church, and she says she "can't stop replaying the image of these men being killed."
An emotional James describes that she is feeling "guilt," because "I don't feel sad for the officers that lost their lives and I know that that's really not my heart. I value — I value human life. And I want to feel sad for them, but I can't help but feeling like the shooter was a martyr, and I know it's not the right way to feel because nobody deserves to lose their lives."

"And I know that those police officers had families and people who loved them and that they didn't deserve to die, but I'm so torn up in my heart about seeing these men, these black men, being gunned down in our community that I can't help — I can't help but feel like — I wasn't surprised by what the shooter did to those cops, and I think a lot of us feel the same way. And I know that it's not right, and I definitely don't condone violence, but I'm sick of this, and I'm sad and I'm hurt. And maybe some of you have some insight or some comfort or words to offer," James said through tears.
"I definitely don't condone violence against innocent people, but I'm sick of this," she continued. "I'm sick of this and something has to be done. Period. I don't know what else to say."
James' station has put her administrative leave, according to WREG.
WPBT2's statement regarding comments made by one of its contractors surrounding the tragic events in Dallas. pic.twitter.com/WCDvVq0eOi

— WPBT2 (@WPBT2) July 11, 2016
Have a tip we should know? tips@mediaite.com