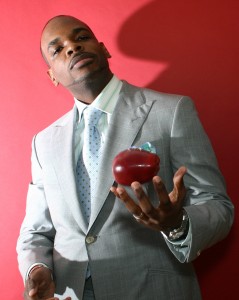 Earlier this week, the new owners of Vibe magazine introduced their editor in chief, Jermaine Hall, the man who will be charged with transforming the title, which was shuttered in July, into a bimonthly with a ramped up online presence. But Hall, who got his start at Vibe as an intern during college and most recently held the top spot at King magazine, another recently closed magazine geared towards a black/urban audience, isn't intimidated in the least. In fact he's excited to 'broaden the bin,' and go after an ASME or two. We spoke with him on the day after his new job was announced.
See a slideshow of Jermaine Hall's favorite Vibe covers of all time here.

Have you been intimidated at all by the task of reinventing, reimagining Vibe?
As far as being intimidated … I've always been very confident about anything dealing with editorial, so I'm definitely not intimidated. Actually, as I said before, I'm very excited. I love all the eras of Vibe but one of my favorite eras is Alan Light's tenure [1994-1997] — the book was at its broadest during that time. I'm looking to recapture that feel, but bring it up to date.
Has it been of comfort to you that you're working with other Vibe alumni like Len Burnett?
It's like having a Jedi to guide you through your travels — stories that they can tell, the mistakes that they've seen. The thing I love the most is to be able to throw an idea out there and have Len come back and say 'maybe you should think about it this way.' There's a lot of back and forth, and eventually we get on the same page. I also want to bring Brett Wright into that conversation as well because he's obviously a very important part of what's going on right now.
Brett Wright told the Times that he hasn't talked to Quincy Jones recently. Have you?
I have not talked to Quincy Jones.
Do you have any idea what he meant when he said, "They messed my magazine all up"?
I'm sorry, he said what?
Quincy Jones told EbonyJet.com that, "They messed my magazine all up."
[laughs] Quincy's an icon — you have to respect that he had the vision to create a product like that. As far as messing up the product, I think that Vibe has done a good job of documenting the culture for the last 16 years. I wouldn't say that the product has been messed up.
Have you heard any rumors saying that Vibe went astray becuase there were so many white people involved on the corporate level?
I haven't heard that.
You were the webmaster at Vibe from 1997 to 1999. How much did you feel like you knew what you were doing, preparing content for readers online?
Here's the thing that we did know back then: We knew that we had the capability to provide immediate information. You can get things up on the web every minute of every day. Back then that was a problem for a lot of magazines and their web properties. A lot of editors didn't really understand the value of online yet. The thinking was that if you give it to them online, then they won't want to read it in print, rather than using online to push the magazine.
How hard do you think it's going to be to get Vibe readers to come to a property that's primarily online? Or will you (the magazine) really be the ones catching up with them (the readers)?
The previous regime did a very good job of trying to acclimate the reader online — they put a lot of emphasis in book, trying to get people to read stories in the book and also relay them to the website. And also you have to keep in mind that the magazine is not going away. It will come out once this year and probably six times next year. It's not like that part of it is totally going away.
How does it feel going from the top spot at King, one magazine that just closed, to another magazine that just closed and is now relaunching? Do you feel like you're in no-man's land?

No, I feel really great. I feel really, really inspired. I started as an intern at Vibe my last year at grad school. My first job in the industry was at Vibe.com, so this is a coming-home story for me. I'm also very excited. We're going to broaden the scope of the magazine — inject some Hollywood coverage, expand the music scope, cover sports — really make a conscious effort to broaden the bin and not have it be so music-slash–hip-hop specific.
It seems like the thinking is — between Uptown and Vibe —  that you all want to create lifestlye titles, not vertical-niche, music titles.
It's anchored by the music, but there's so many different tentacles to urban culture and urban lifestlye so we want to make sure that we're covering all of that for the reader. Another thing that's going to be bigger for us is that we're going to provide service pieces to the reader. I feel like everybody likes to be told what to do these days. Magazine and online properties are really good places to teach people how to do stuff.
What will be the hardest thing to unlearn from your time at King magazine?
Well, the hardest part of doing King magazine — and people never think this — but it was dealing with the women, booking the talent for the cover. Black sexuality is looked at in a different way than white sexuality; it's very intimidating and advertisers are a little bit scared of that. I look forward to doing a book where I have the option to put a female or a male on the cover.
Do you think this broadness that you've talked about bringing to Vibe is going to be more attractive for advertisers than what you were trying to do at King?

Oh, 100%. As beautifully as the book was laid out and as great as the stories were and as well thought-out as the pacing was, I think that at the end of the day a lot of people would — to use a phrase — judge the book by its cover. They never made it to the meat content. Some advertisers might have been guilty of that, too. Sorry if I'm not focusing enough on the Vibe stuff, I didn't really want this to be a King interview
No, that's fine.
We did a story about this guy Lloyd Avery and he was a muse of John Singleton and he started gang-banging and art started imitating life
… and he was killed by a white supremacist in prison, right?
Right. The writer and myself submitted that story to the ASMEs. I love to get a chance to talk about the stories of more substance in the magazine just to reiterate that the book wasn't just a TnA book.
Are you going to try to go after more ASMEs at Vibe?
Absolutely, if I wasn't doing that, I wouldn't be doing my job.
Getting the magazine off the newsstand and getting it to advertisers is a different problem, right?

Right, and that's not a King-specific problem. If you call up somebody from Maxim — Joe Levy — anybody who runs a men's magazine, they'll tell you that they've had similar problems.
Do you have any desire to play a role in the relaunch of Soul Train, another InterMedia property?
If given the opportunity, I would love to — I grew up watching that. I'm really excited to see what they do with the property, and see how they update it. There are some really brilliant people involved and I think the final product is going to be really nice.
Last question: Our headline when the news broke was "Vibe Magazine Life After Death." Which "Life After Death" song is your Vibe magazine going to be.

Hopefully, "Mo Money Mo Problems."
Have a tip we should know? [email protected]