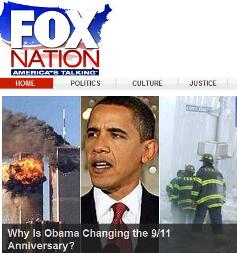 Dispatches From Fox Nation:
Did you know that Pres. Obama is "changing" the meaning of 9/11? Well, The Fox Nation wants to help you figure out why. In a story that has been on the front page for more than three days, the headline reads, "Why Is Obama Changing the 9/11 Anniversary?" And what's inside is one of the most egregious examples of scare tactics employed by the site.
The post is simply a link and paragraph from an American Spectator column by Matthew Vadum. Here's the Fox Nation pullquote:
The Obama White House is behind a cynical, coldly calculated political effort to erase the meaning of the Sept. 11, 2001 terrorist attacks from the American psyche and convert Sept. 11 into a day of leftist celebration and statist idolatry. This effort to reshape the American psyche has nothing to do with healing the nation and everything to do with easing the nation along in the ongoing radical transformation of America that President Obama promised during last year's election campaign. The president signed into law a measure in April that designated Sept. 11 as a National Day of Service, but it's not likely many lawmakers thought this meant that day was going to be turned into a celebration of ethanol, carbon emission controls, and radical community organizing.
Besides the fact that this is a gross misreading of the bill, nowhere does the column point out that this organization was started by a 9/11 family member, and has the support of a wide spectrum of groups. Including several 9/11 family organizations.
Of course, that's ignoring the "poor taste" factor – leaving this drivel up in the wake of Sen. Ted Kennedy's death, since the bill is part of "The Edward M. Kennedy Serve America Act."
But "poor taste" doesn't exist in The Fox Nation. Just take a look at a sample comment from "Enman":
9/11 should be a national nuke Mecca day…..and tell them that we believe in "do unto others….." Obama wants to get rid of some of our nukes….and there is no better way to do this than to eliminate the city of Mecca.
Muslims are a curse to the world….Muhammad leading them straight to HELL, and they go willingly
We like to be sarcastic with these, but this is disgusting. Whatever Fox News wants to say about the site (that it is opinion, and social networking), they include FoxNation.com web stats as part of the FoxNews.com metrics. So it is most certainly in the fold. And they are allowing comments like this, and stories like this, to be out in the open, ginning up political, and religious, fervor. It is a new low for The Nation.
Do you see something of interest at The Fox Nation? Email it to Steve@Mediaite.com…
—–
» Follow Steve Krakauer on Twitter
Have a tip we should know? tips@mediaite.com