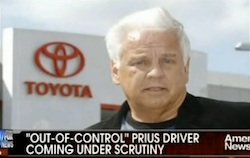 Thank God for the 24 hour news-cycle, without which we would never be able to dig into every public interest story until we hit scandal gold. Like the case of James Sikes, the man behind the wheel of the out-of-control Prius from Monday, and who it is now being reported may not have been as innocent as he seemed when his car's accelerator jammed, speeding up to 94 mph before being guided to a stop by the California Highway Patrol.

Fox's original report of the crash:

Today's America's HQ segment:
So the car had had seven months left of car payments that Sikes wouldn't have to pay if it turns out there was a malfunction? And
the police report of the incident
, "The California Highway Patrol has repeatedly said it has no reason to suspect a hoax," bears a resemblance to what the Colorado state law enforcement said
about the Heene family during the Balloon Boy affair
:
Sheriff Jim Alderden said Friday his investigators believe there was no hoax, but investigators will seek a new interview with the family after the CNN broadcast to clarify the statement.
Alderden said investigators, trained to look at body language and verbal communication for signs of deception, were at the Heene home during the whole ordeal and believe they were telling the truth.
Will this be another case of the media actually uncovering a truth that police would have overlooked?
Have a tip we should know? tips@mediaite.com