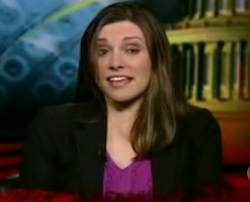 Sean Penn needs to do some major P.R. damage-control before he starts coming off like a sycophantic nutbag. After telling CBS News that critics who question his involvement in the Haiti relief fund should all die "screaming of rectal cancer," you'd think that the actor would be willing to amend/explain his statement to the press. Not so: When Washington Examiner reporter Tara Palmeri asked Penn how he has seen his critics change since he made that statement, she was publicly yelled at by Penn, threatened by his publicist C.J. Jordan and removed by police from a gala at the Washington Hebrew Congregation. Yeah, that will show America that there is absolutely nothing weird about your charity work, Mr. Penn. Palmeri was on Fox's Red Eye this morning to discuss the incident.
Please ignore the part where
Greg Gutfeld
talks about
Hugo Chavez
in this clip and focus on: 1) Reporters at the gala were allowed to ask one question 2) It was related to the Haitian benefit, since Penn's original statements were about his involvement in the relief effort and 3) the reporter was threatened by Penn's P.R. person to have her fired from her job and told her to write a letter of apology to the Haitian ambassador…as if her question had anything to do with him or his country's tragedy whatsoever, and not to the inflammatory remarks made by one celebrity attaching his name to the project. Ridiculous.
Have a tip we should know? tips@mediaite.com