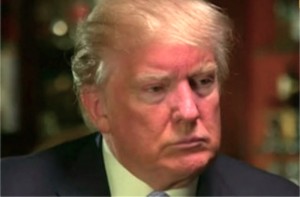 A massive document that appeared to be the Democrats' opposition research file on Donald Trump appeared on Gawker Wednesday afternoon.
The release follows reports that hackers aligned with the Russian government had successfully breached the DNC's computers and stolen the party's oppo research.
The 200+ page document is dated from Dec. 2015 and begins by outlining the core narratives that the party could use against the then-GOP frontrunner, current presumptive nominee.
Those core narratives are:
Trump lies all the time and is loyal to nobody but himself.
Trump has run a "divisive and offensive" campaign, building his platform on policies that demean Muslims and immigrants and frequently deriding minorities.
Trump is a bad businessman who has filed for bankruptcy multiple times and demonstrated disatrous financial instincts.
Trump subscribes to a host of absurd, self-contradictory, irresponsible and dangerous viewpoints on everything from guns to foreign policy to waterboarding to climate change.
Trump is the "misogynist in chief" who has "devalued and demeaned women throughout his career," and believes that "women's primary role is to please men."
Trump is "out of touch," and his tax plan is generous only to the extremely wealthy like himself, while it abandons the middle class.
Trump was accused by his ex-wife Ivanka Trump of rape. His attorney defended him by saying, "You can't rape your wife."
Gawker reports that they received the document from a hacker calling himself Guccifer 2.0, a reference to "Guccifer," the moniker for the Romanian hacker who claims to have breached Hillary Clinton's private email server. They write that the memo came with a trove of other documents that "appear to be several lists of donors, including email addresses and donation amounts, grouped by wealth and specific fundraising events."
"Gawker has not yet been able to verify that the Trump file was produced by the DNC," they write, "but we have been able to independently verify that the financial documents were produced by people or groups affiliated with the Democratic Party."
The file is viewable here.
Have a tip we should know? [email protected]