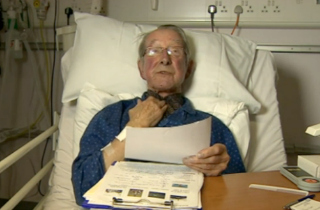 In an emotional plea from his hospital bed, Paul Cantlie, father of British hostage John Cantlie who is currently being held by ISIS, appealed to his captors to release his son immediately.
John Cantlie, a photojournalist, has been held by ISIS militants since he was kidnapped in northern Syria in 2012, and has since appeared in a number of ISIS videos reading scripted lines mocking U.S. and British foreign policy. In the new video, his father said he was greatly relieved to see that his son was alive, but also expressed "despair and helplessness."
"For the first time in almost two years, we saw John when he made a televised broadcast during which he told viewers that he was still a prisoner of the Islamic State and that maybe he will live and maybe he will die," he said.
As a journalist, Paul Cantlie said, John was "seeking out the true story of the suffering of the Syrian people" and felt he had to help tell their story "in the best way that he could."
He then pled to his son's captors:
"To those holding John: please know that he is a good man, he sought only to help the Syrian people and I ask you from all that is sacred, to help us and allow him to return home safely to those he loves and who love him."
Cantlie, who is 81 years old and spoke with the help of a voice aid, said his family has yet to receive any response from the ISIS militants.
Watch the emotional video below, via The Telegraph:
(Full transcript can be found here.)
[Image via screengrab/Telegraph]
— —
>>Follow Andrew Desiderio (@forza_desiderio) on Twitter
[Note: Mediaite intern Andrew Desiderio is a student at The George Washington University.]
Have a tip we should know? tips@mediaite.com