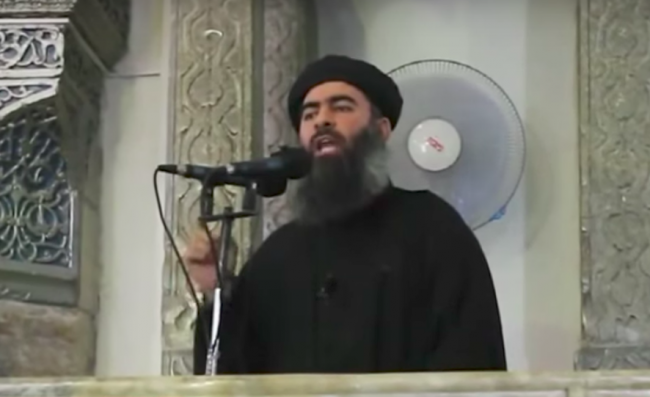 In a bit of overnight breaking news, Russia is now claiming to have killed ISIS chief, Abu Bakr al-Baghdadi.
In a statement, Russia's defense ministry said they had taken out Baghdadi in an airstrike of an ISIS military council meeting near their capital city of Raqqa, last month.
"According to information that is checked through various channels, [ISIS] leader Ibrahim Abu-Bakr al-Baghdadi, who was killed as a result of the strike, was also present at the meeting," the ministry said in the statement first reported by the Russian state news agency Sputnik.
In addition to Baghdadi, the Russians claimed that their strike also wiped out 30 mid-level commanders and 300 ground fighters. If true, it would be one of the most significant developments in the global struggle against the terrorist group.
"If true" of course is the million dollars phrase.
As of early Friday morning neither the United States or western news organizations could independently confirm the news, and false stories of al-Baghdadi's death have percolated around the Internet in the past. As an arm of that nation's official propaganda, Russian media cannot be taken at face value on issues of international significance.
After pressing deep into Iraq and Syria, the once mighty terrorist organization has been buffeted by a relentless bombing campaign from the United States and by local anti-ISIS ground forces. The group still manages to inspire international terrorism, with perpetrators across Europe claiming ISIS as their inspiration. In the United States, both the San Bernardino massacres in California and the PULSE nightclub shooting in Miami were inspired by ISIS.
[image via screengrab]
Have a tip we should know? tips@mediaite.com