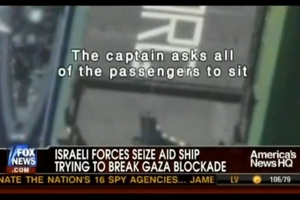 Israeli forces have once again seized a humanitarian aid ship headed towards Gaza– this time with no resistance or hostilities. The Rachel Corrie was en route with medical and constructing supplies when it received word from Israeli authorities that it was on its way to a blockaded area, but proceeded. The crew were then told to divert their route towards the port city of Ashdod. It is considered a completely different situation than the siege last week that left nine people dead and riled up international furor against the Israeli state.
MSNBC news reports that the ship is on it's way to Ashdod, escorted by military, but that Israeli forces had advanced notification that they would not be met with resistance:
The IDF said they informed the crew of the MV Rachel Corrie that the Gaza Strip was under blockade and that the ship should put to port in the southern coastal city of Ashdod.

It urged the boat to divert to Ashdod, where its cargo would be unloaded and transferred to Gaza if it passed a security inspection, but the ship rejected the invitation, the military said.

The military said its forces boarded the ship from the sea, without using helicopters. The operation went peacefully and the boat was en route to Ashdod, the IDF told NBC News.

"The ship has been boarded and there was full compliance from the crew and passengers on board," an Israeli military spokesperson told Reuters.
The cable news report of the story from Fox News below:

Have a tip we should know? tips@mediaite.com