It Takes a Village To Get Your Traffic: Tyra Enters Online Battle, Others Reposition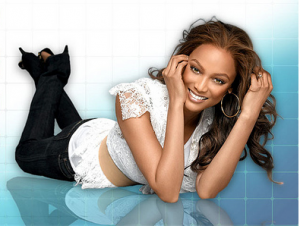 There's a veritable cat fight happening on the Internet, and women's eyeballs are at stake.
Model-turned-entrepeneur Tyra Banks is throwing her hat into yet another ring today, launching Tyra: Beauty Inside & Out, her online women's magazine. The site goes live today at 5 p.m. with a feature that will let visitors have their say in fast-tracking one application for the 14th season of "America's Next Top Model" — sort of a 'let us judge you on the Internet now, so we can judge you on TV later' play, and great for traffic.
According to WWD Memopad, the site will cover the usual battery of beauty, fashion, health and dating/sex, and of course, feature a ton of cross-promotional content with Banks' other properties and projects.
And on the more sensible and mom-ish end of the spectrum, NBCU is pumping more money into its online women's property and Internet veteran iVillage, founded in 1995, to pay for a redesign and boost traffic, reports the New York Times.
Lauren Zalaznick — NBCU's branding wiz who has shown a particular acumen for marketing to women — is behind the changes to the site, which will include more streamlined sections and, of course, more cross-promotion with other NBCU properties, namely Oxygen. Larger aesthetic changes to the site will appear Wednesday, and other new elements will continue to appear for the next six months.
From the NYT:
"We are changing our philosophy: we're not everything to everybody anymore," said Jodi Kahn, an executive vice president at iVillage who is overseeing the overhaul … Ms. Kahn described it as "very elegantly weaving the topical newsy content, wrapped around conversation and really usable tools that help women manage their day-to-day life."
… which might be a polite, corporate way of saying 'we're going to try to do some sharper, quicker content to try to reclaim some of Jezebel's zeitgeist domination.' Is now a good time to shine a light on the poll with iVillage's top story: "Are you addicted to Post-Its? Yes! or Nah."

Have a tip we should know? tips@mediaite.com