Ivanka Cuts Interview Short, Calls It Negative After Father's Quotes on Women Are Read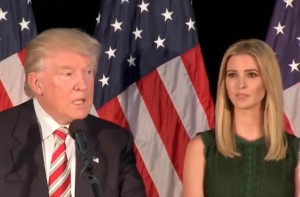 Interview implosions are not specific to cable news. Sometimes, they happen in print. In fact, when they do, it's almost more shocking. Here's a good example.
Ivanka Trump has been really, really pushing her big pet project, paid maternity leave, for a while now. She even got her father, Republican presidential nominee Donald Trump, on-board. One major step in pushing her agenda has been media appearances. This morning on Good Morning America, she delightedly talked about how employees of the Trump Organization enjoy paid leave already. That got thoroughly debunked by the Huffington Post, but her one-woman campaign to talk about maternity leave with big outlets soldiered on.
That brings us to this interview in Cosmopolitan. Trump had a horrible interview with Prachi Gupta. Look at this part, for instance:

First, she interrupted Gupta. Then, when given the chance to expand on a confusing element of the proposal for Cosmo readers, she basically told the reporter, "Look it up."
That wasn't the worst part, though. When confronted with her father's 2004 comments on pregnancy being "inconvenient" for business, she said this:
So I think that you have a lot of negativity in these questions, and I think my father has put forth a very comprehensive and really revolutionary plan to deal with a lot of issues. So I don't know how useful it is to spend too much time with you on this if you're going to make a comment like that. My father obviously has a track record of decades of employing women at every level of his company, and supporting women, and supporting them in their professional capacity, and enabling them to thrive outside of the office and within. To imply otherwise is an unfair characterization of his track record and his support of professional women.
Gupta's question merely asked Trump to respond to her father's previous comments. The writer doubled down, apologizing for offending Trump, but pointing out that as the Republican nominee, his past statements on the inconvenience of working with pregnant women are relevant to a discussion on his new paid leave platform. Here's what Trump said to that:
Well, you said he made those comments. I don't know that he said those comments.
Just to be clear, he did.
Moments later, Trump cut the interview short. Read it all here.
[image via screengrab]
Have a tip we should know? tips@mediaite.com