Jann Wenner: Subject of Discredited Rolling Stone Article an 'Expert Fabulist'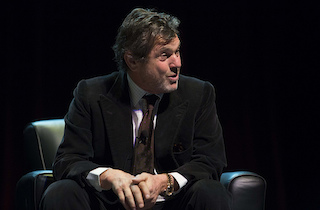 Rolling Stone publisher Jann Wenner commented Sunday on the discredited piece his magazine formally retracted last night, following a review from the Columbia Graduate School of Journalism that found widespread and systemic disregard of implement basic journalistic principles. Wenner faulted his staff for failing to do journalistic due diligence, but also said the subject of the story bore some responsibility for its falsehood.

Wenner told the New York Times:
The problems with the article started with its source, Mr. Wenner said. He described her as "a really expert fabulist storyteller" who managed to manipulate the magazine's journalism process. When asked to clarify, he said that he was not trying to blame Jackie, "but obviously there is something here that is untruthful, and something sits at her doorstep."
Rolling Stone's account of a gang rape at the U-Va campus began to crumble under scrutiny from other publications; the paper informally retracted the piece after re-reporting from the Washington Post undermined the basic details of "Jackie's" account of the rape. A subsequent investigation by Charlottesville police found no evidence of the incident that Jackie described in the article.
Wenner did add that journalist Sabrina Erdely, who apologized Sunday night, "was willing to go too far in her effort to try and protect a victim of apparently a horrible crime. She dropped her journalistic training, scruples and rules." He promised that henceforth "we are not going to cut those corners even for the most sympathetic reasons."
[h/t New York Times]
[Image via Wexner Center]
——
>> Follow Evan McMurry (@evanmcmurry) on Twitter
Have a tip we should know? tips@mediaite.com