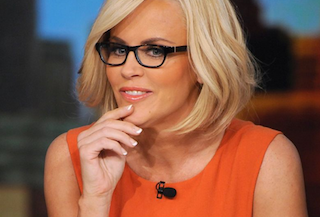 Jenny McCarthy, the current co-host on The View who is perhaps best known at this point for his vocal opposition to vaccinations, attempted to clarify her controversial position with an op-ed Saturday in the Chicago Sun-Times. The piece begins with the definitive statement, "I am not 'anti-vaccine.'"
"This is not a change in my stance nor is it a new position that I have recently adopted," McCarthy continues. "For years, I have repeatedly stated that I am, in fact, 'pro-vaccine' and for years I have been wrongly branded as 'anti-vaccine.'" She does not, however, discount her earlier assertions that vaccinations likely caused her son to get autism, a theory that has been repeatedly disproved by the medical community.
In the new article, McCarthy argues that she has always believed in a "gray area" when it comes to vaccines, asking that her son receive less vaccinations from his doctor and not zero vaccinations. She attacks the media for distorting those views, writing, "Blatantly inaccurate blog posts about my position have been accepted as truth by the public at large as well as media outlets (legitimate and otherwise), who have taken those false stories and repeatedly turned them into headlines."
At the end of the article, McCarthy sums up exactly what she believes thusly:
"I believe in the importance of a vaccine program and I believe parents have the right to choose one poke per visit. I've never told anyone to not vaccinate. Should a child with the flu receive six vaccines in one doctor visit? Should a child with a compromised immune system be treated the same way as a robust, healthy child? Shouldn't a child with a family history of vaccine reactions have a different plan? Or at least the right to ask questions?

I will continue to say what I have always said: 'One size does not fit all.' God help us all if gray is no longer an option."
What McCarthy does not provide in the article is any evidence to back up the claim that vaccinations can be dangerous for children.
For more on McCarthy's views about vaccines, watch this 2013 report, via CNN:
[photo via ABC]
— —
>> Follow Matt Wilstein (@TheMattWilstein) on Twitter
Have a tip we should know? tips@mediaite.com