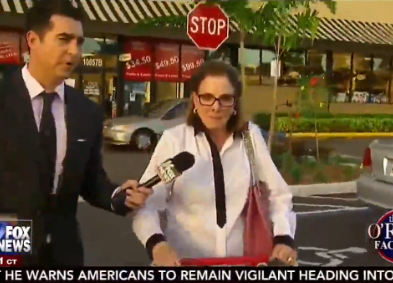 Fox News' Jesse Watters visited the city of Plantation, Florida, where officials are suing a generous family who turns their home into a must-see light extravaganza for the community each year.
The spectacle, complete with hand-made lights and a life-sized carousel draws several hundred visitors per day; the home owners told Watters they use the community-gathering tradition to raise money for charity, estimating $10,000 since they began the display.
"The wonderful hearts that these people have to do all this for their community is unbelievable," Santa Claus said in an interview with Watters.
But according to local residents, city mayor Diane Veltri Bendekovic wants to charge the homeowners and profit directly from their work.
Watters cornered the mayor outside a grocery store, asking the representative to explain the lawsuit against the Christmas display. The look of near-panic on her face as Watters introduces himself and the show he represents is clear. The exchange is priceless:
Bendekovic: As much as I would like to comment, we're in pending litigation right now.

Watters: Florida Bar Association says that you can comment during a proceeding as long as you don't prejudice one side or the other.

Bendekovic: Okay…

Watters: This isn't a very good of taxpayer money, going after home owners for a few Christmas lights, is it?

Watters: I don't think Santa's going to be happy with you.

Bendekovic: I don't think you should be voicing your opinion what Santa wants and what Santa doesn't want, so.
Watch the video above, via Fox News.
The second installment of Fox's new Watters World show airs tomorrow night with none other than Bill O'Reilly as a guest.
[Image via screengrab]
—
>> Follow Elizabeth Preza on Twitter (@lizacisms)
Have a tip we should know? tips@mediaite.com