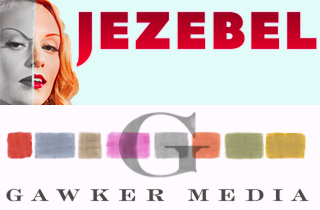 Gawker Media's women-focused site Jezebel took aim at its umbrella organization Monday in a memo attributed to the full staff that accuses Gawker of failing to address an issue that has been plaguing the site's comments section for several months: the "rape GIF problem."
In the post, Jezebel editors describe how anonymous users have been utilizing "untraceable burner accounts" to bombard the site's comments section with "violent pornography" in animated GIF form. Every time they ban one user, they just pop up with a different IP address. "It's like playing whack-a-mole with a sociopathic Hydra," the write.
The process has forced Jezebel editors to confront this imagery every day in order to remove it from the site. "None of us are paid enough to deal with this on a daily basis," they write.
While they say the higher-ups at Gawker are "well aware" of the issue, they have shown no urgency in finding a solution, such as blocking or tracking the IP addresses of the malicious users. The editors go on to explain why they have decided to make the issue public:
In refusing to address the problem, Gawker's leadership is prioritizing theoretical anonymous tipsters over a very real and immediate threat to the mental health of Jezebel's staff and readers. If this were happening at another website, if another workplace was essentially requiring its female employees to manage a malevolent human pornbot, we'd report the hell out of it here and cite it as another example of employers failing to take the safety of its female employees seriously. But it's happening to us. It's been happening to us for months. And it feels hypocritical to continue to remain silent about it.
In June 2012, Jezebel's editor-in-chief Jessica Coen introduced Gawker Media's new commenting system, writing, "We're thrilled to announce the arrival of Kinja, Jezebel's discussion platform." She described it as "something shiny and new" that was ready to replace the old "broken" system the site had used for years. Two years later, that system is apparently in need of repair.
Shortly after Jezebel's post went up Monday, Gawker Media's editorial director Joel Johnson responded with this message on Twitter:
Re: Jezebel. 1. They rule. 2. I've dropped the ball and they're right to call me out. 3. I don't have a solution yet but that's my problem.

— Joel Johnson (@joeljohnson) August 11, 2014
Read the full editorial at Jezebel.com.
Update — Aug. 12, 12:30 p.m. ET: Johnson announced a short-term solution to the problem on Twitter:
Quick update: we're disabling all image uploads on comments while we figure out a better long term solution for image trolling. #gawker

— Joel Johnson (@joeljohnson) August 12, 2014
[Photo via screengrab]
— —
>> Follow Matt Wilstein (@TheMattWilstein) on Twitter
Have a tip we should know? [email protected]