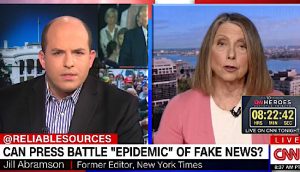 During a segment on CNN's Reliable Sources devoted to the "epidemic" of fake news, former New York Times executive editor Jill Abramson not only bemoaned conspiracy theories that gained traction, such as Pizzagate, but also the reporting on President-elect Donald Trump's tweets.
Abramson, now a political columnist for The Guardian, discussed Buzzfeed's reporting of Macedonian teenagers churning out deliberately fake news stories while earning thousands of dollars in advertising revenue.
Asked by host Brian Stelter what her recommendation to news rooms would be in this new environment, she stated that she wanted to see them become "less reactive" to the picking up of "patently false stories."
After praising the work of fact-checking done by the NYT, Washington Post and PolitiFact, Abramson was questioned on whether the mainstream media has enough credibility these days to do that effectively.
"You know, obviously the answer to that we both know, Brian, is no," Abramson lamented. "That trust in the news media is at a historic low and probably sinking. But journalists still have to do their jobs."
"And what I worry about as much as stories like Pizzagate is that Donald Trump and his tweets themselves — which much of the media is so reactive to — that's fake news too," Abramson noted. "I mean, just the recent tweets about, quote unquote, massive voter fraud. that is an outright lie."
She then brought up the high percentage of public statements by Trump that have been deemed to be false by PolitiFact.
Watch the clip above, via CNN.
[image via screengrab]
–
Follow Justin Baragona on Twitter: @justinbaragona
Have a tip we should know? tips@mediaite.com