Jill Stein: I Would Pardon Edward Snowden and Give Him a Job in My Administration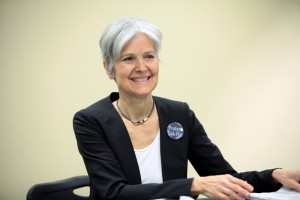 Green Party presidential candidate Jill Stein published an op-ed in The Guardian Tuesday saying that, if elected, she would pardon NSA whistleblower Edward Snowden and offer him a role in her administration.
Stein writes that "Snowden's whistleblowing was among the most important in US history. It showed us that the relationship between the people of the United States and the government has gone off track and needs a major course correction."
Federal judges ruled that such massive collection of citizens' metadata without any connection to a particular investigation was patently illegal, essentially vindicating Snowden. His goal was to tell the truth about the government spying on all of us, and to create public and judicial pressure on the government to create real changes in the way things are done and to stop the trajectory towards a surveillance state.

[…] If elected president I will immediately pardon Edward Snowden, Chelsea Manning and John Kiriakou for their important work in exposing the massive, systematic violation of our constitutional rights. I would invite them to the White House to publicly acknowledge their heroism, and create a role for them in the Stein-Baraka Green party administration to help us create a modern framework that protects personal privacy while still conducting effective investigations where warranted.
During an interview in July, Stein said that she would make Snowden a member of her Cabinet "because we need people who are part of our national security administration who are really very patriotic."
According to a recent national poll, Stein is polling at 4 percent.
Have a tip we should know? tips@mediaite.com