Jimmy Carter: I Never Have Believed That Jesus Christ Would Approve Of Abortions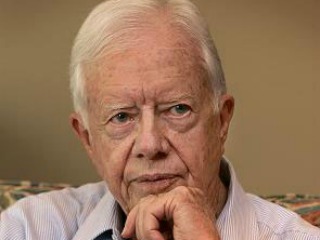 On Thursday, former President Jimmy Carter shared with radio host Laura Ingraham that he hopes fellow Democrats follow his lead when it comes to handling the issue of abortion — namely, to focus on addressing the causes of and reducing the need for the practice in addition to limiting abortions, legally, to specific cases.
Is, Ingraham asked him, offering abortion moral?
RELATED: MSNBC's Alex Wagner On Tennessee Abortion Bill: 'Nothing Short Of Reproductive McCarthyism'
I never have believed that Jesus Christ would approve of abortions and that was one of the problems I had when I was president having to uphold Roe v. Wade. And I did everything I could to minimize the need for abortions. I made it easy to adopt children, for instance, who were unwanted and also initiated the program called Women and Infant Children, or WIC, program that's still in existence now. But except for the times when a mother's life is in danger or when a pregnancy is caused by rape or incest, I would certainly not or never have approved of any abortions.
Ingraham noted that she knows of people, personally, who would be registered Democrats were it not for the party's take on abortion.
"I've signed a public letter," Carter shared, "calling for the Democratic Party at the next convention to espouse my position on abortion, which is to minimize the need, requirement for abortion and limit it only to women whose life are in danger or who are pregnant as a result of rape or incest. I think if the Democratic Party would adopt that policy, that would be acceptable to a lot of people who are now estranged from our party because of the abortion issue."
Have a listen, courtesy of The Laura Ingraham Show:
Have a tip we should know? tips@mediaite.com