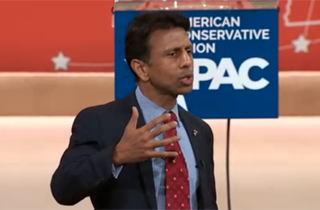 Louisiana Governor Bobby Jindal had his turn today to woo young conservative voters today at CPAC, and right out of the gate, he was harsh towards his fellow Republicans in Washington, though the rest of the speech was filled with intelligent yet GOP garden-variety policy suggestions.
In his first major appearance since his State of the Union response in 2009, Jindal, who was formerly the Secretary of the Department of Health and Hospitals in Louisiana, seemed at ease as he slammed the Affordable Care Act — "We must repeal every single word of Obamacare. All of it. It was built on broken promises" — and blamed Republicans for caving. "Republicans are about to wave the white flag of surrender on Obamacare, and I'm here to tell them, we won't stand for that," he said. "It is time for them to govern the way they campaigned and get rid of Obamacare."
He also gave a bulletpointed list as to why he wanted to eliminate Common Core: to grow the economy, to teach the next generation to be "critical thinkers", and, finally, to allow parents to teach their children the way they deemed best. "The liberals in Washington, they don't trust us to be intelligent enough to edcuate our children," Jindal said, alluding to Oklahoma's recent decision to eliminate AP US history because of its alleged apologist stance. "It wouldn't be about American exceptionalism," he argued.
And, as did his fellow almost-candidates, Jindal had a few words to say about the conflict with ISIS. "I say this with a heavy heart, I genuinely do. President Obama has disqualified himself, shown himself totally incapable of being our commander in chief," he said to applause.
Listing ISIS's brazen atrocities, Jindal dinged the president for refusing to use the term "Radical Islam." "Certainly we're not at war with Islam, but we're at war with radical Islam," he said. "If we have a president who won't even name what we face, how can we count on them to effectively win and prosecute this war?"
Addressing his London remarks, Jindal clarified that clerics needed to condemn the terrorists, and threw in a call for assimilation: "I also said that we in the West have a responsibility to assimilate and integrate. Now the politically correct people say that we should be a salad bowl. There's nothing wrong with saying that if you want to come to America, you should be an American."
Calling on Congress to actually give the president enough war powers to thoroughly kill ISIS, Jindal still remembered to bash Obama for his comments drawing a parallel between Islamic and medieval Christian atrocities. "Mr. President, I've got a deal for you," he proposed, using a line he's brought out in the past. I'll keep an eye out for the medieval Christians, and you go to war agains the radical Islamists who threaten us today."
Watch the full speech below, via NBC News:
[Full disclosure: Tina Nguyen worked as an intern in the office of Gov. Jindal in the summer of 2008.]
[Image via NBC/screenshot]
— —
>> Follow Tina Nguyen (@Tina_Nguyen) on Twitter
Have a tip we should know? tips@mediaite.com