Job Alert: Actors Sought to Dress as Pimps and Prostitutes and Pass Out Flyers at CPAC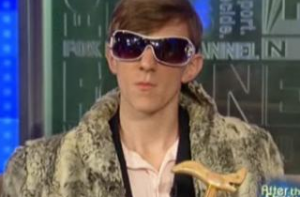 Last year, James O'Keefe — who you may know as a young conservative activist and "right wing darling" who is so fundamentally opposed to "journalistic malpractice" that he goes undercover with a camera on his own and then selectively edits the videos — threw a party while at the Conservative Political Action Conference (CPAC). He hired actors to hand out the flyers for the party, which was unaffiliated with CPAC. Some of those actors and acctresses dressed as sex workers and pimps, just like he used to when he was gaining notoriety for trying to frame the advocacy group ACORN as one that was all in for sex trafficking.
CPAC 2016 is scheduled for March 2 through 5 and appears to be having another of these unaffiliated parties with the same theme that 19-year-olds regularly employ for frat parties in overheated basements. The Slot is reporting that while it isn't yet known if he's behind it again this year, a call for acting talent has been issued. Here it is:
I have a client that is looking for 8 Personable and Friendly Talent(4 Females and 4 Males) to be Light Costume Characters for CPAC 2016 on March 4, 2016.
Dates/Hours/Rate:
March 4 – 12pm-2pm (possibly go with client to buy a costume) – $15/hr
March 4 – 2pm-10pm – $22/hr + $13 for parking
Duties: Take Pictures with Attendees and Help pass out Flyers for a party later that night.
Attire: Costume characters, such as a pimp and prostitute, UPS Man, Repairman, and others.
Okay, so pimps and prostitutes aren't the only options for D.C.-based actors looking to expand their brand at CPAC. They could also be delivery or repair workers. Er, men. UPS men and repairmen, according to the job call. Depending on what "others" entails, the only gig for actresses might just be prostitutes.
No matter! Look at how much fun these two seemed to be having passing out flyers for O'Keefe's big night last year:
They're even handling copies of O'Keefe's book.
One question that begs to be asked, though, is why sex workers? Why at CPAC? GOP leaders aren't known for their friendliness to sex work. Well, at least not when it comes to legislation. Some aren't even comfortable being associated to people who take part in legal sexually-involved work, let alone those involved in something as illegal as the trafficking this ad is seeking actors to pretend they're involved in.
Groups like Future Female Leaders, Right on Crime, and the Network of Enlightened Women are affiliated with CPAC. Even though this party is not hosted directly by the conference, it can't be thrilled to them to know that women dressed as sex workers will be walking around the area.
[image via screengrab]
For more from Lindsey, follow her on Twitter.
Have a tip we should know? tips@mediaite.com