John Oliver: Cable News Is Just 'ADD Children, Banging Around from Story to Story'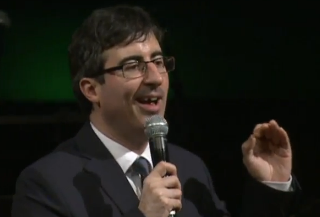 John Oliver's satirical news show Last Week Tonight debuts on HBO later this month, and in a new Washington Post interview, he makes it clear he holds the modern era of journalism in the same regard as Jon Stewart does. That is to say, not very highly. Oliver praises his former colleagues Stewart and Stephen Colbert as the "high water-mark for satire" and riffs a bit on the federal estate tax, but saves most of his biting comments for the Fourth Estate and its relationship with people in power.
When Oliver subbed in for Stewart on The Daily Show last year, he kept on the great tradition of pillorying cable news for all it's worth. And he tells the Washington Post that he considers cable news to be no more than "ADD children, banging around from story to story then returning to their main story, which is where the [Malaysia Airlines] plane is."
Oliver also said he's also bothered by how cozy the relationship between the press and the government is.
"I read that book, 'This Town'… Yes, there's a lot of gossipy trash in it, but it has a cancerous black heart at the center of it. And I do think that's Exhibit A in the way journalists and politicians in D.C. relate to each other. . . . It's like a bunch of nerdy teenagers saying, 'I want to be in with the popular kids.' And that's terrible. [As a journalist], you shouldn't be wanting to go to a party for any other reason than to basically ruin it. If there's not visible distrust [among reporters and people in power] then there's a massive problem at the heart of journalism."
To promote his new show, Oliver recently released videos parodying new RNC ads meant to appeal to young people.
[h/t Splitsider]
[photo via screengrab]
— —
Follow Josh Feldman on Twitter: @feldmaniac
Have a tip we should know? tips@mediaite.com
Josh Feldman - Senior Editor