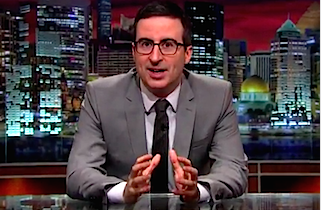 As promised, HBO NOW, a standalone streaming service available to those without cable, launched today just in time for the season five premiere of Game of Thrones this coming Sunday. To mark the occasion, HBO has enlisted John Oliver to help sell the service to his fans, who tend to watch extended clips from Last Week Tonight the morning after they air on YouTube.
"If you're the type of person who 'doesn't own a TV,' first of all, never say that, it's not cool, everyone hates you," Oliver said in this web exclusive clip on Tuesday. "But second of all, you're in luck," he said, emphasizing that all you need to get HBO NOW is the internet.
"It's a lot like HBO Go, except you don't have to rely on your parents' password," Oliver added, saying what everyone was thinking. "If you have the internet, you can now enjoy tons of HBO programming whenever you want. And if you don't have the internet, wow, you should definitely get the internet," where you can find "some of the cutest and the most racist things you will ever see."
So far, HBO NOW is only available through Apple TV and other iOS devices along with Optimum broadband services, with other providers to be added later. The network is offering a one month free trial, after which users will be charged $14.99 per month to access current shows along with the entire HBO archive. They are promising that live programming shown on HBO will be "added as quickly as possible, usually within hours of broadcast."
That's a deal compared to $100 plus for cable TV, but a lot compared to the free access so many people are getting at the moment by borrowing their parents' HBO Go password, as Oliver helpfully reminded everyone.
Watch video below, via HBO:
[Photo via screengrab]
— —
>> Follow Matt Wilstein (@TheMattWilstein) on Twitter
Have a tip we should know? tips@mediaite.com