John Podesta Signals to Press that Obama's Not Done Yet with Aggressive Shots at GOP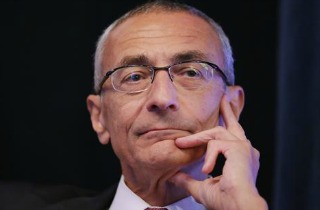 The White House's hiring of John Podesta, former chief of staff for President Bill Clinton, to serve as a counsel to the president specializing in a variety of policy areas has led members of the political press to bouts of furious tea leaf reading.
Some speculated that this staffing decision meant that the administration was going to focus on climate change and environmental reforms in its waning days. Others wondered if the hiring signaled that the White House was just looking to wait out the clock and create a soft space for the president to land when his term expires in 2017.
In a feature in POLITICO magazine entitled "the reboot," Podesta made this process of speculation easy on everyone. His fiery anti-GOP rhetoric should clarify for President Barack Obama's supporters, and the press especially, that this White House still has some fight left in it.
In the POLITICO magazine profile, the report reveals that even the president's close political advisors were not informed of his decision to bring on Podesta, whom they describe as "the closest thing Washington has to a turnaround specialist for wayward Democratic commanders in chief."
The profile goes on to note that this turnaround artist will have his work cut out for him. With Obama's poll numbers sinking fast, his signature achievement set to take up much of the political oxygen in a midterm election year, and his opponents in Congress as energized as ever, the task of recapturing the political momentum for this administration will be a daunting one.
But POLITICO is correct that Podesta is a savvy operator. When he spoke with a reporter with the magazine, he struck an old note that has always appealed to the political press in the Beltway by shifting the focus to this administration's irrational and dishonest negotiating partners: congressional Republicans.
RELATED: CNN Guests Agree: Obama Bringing In John Podesta to Manage 'End of an Administration'
"They need to focus on executive action given that they are facing a second term against a cult worthy of Jonestown in charge of one of the houses of Congress," Podesta said, prior to his ascension to presidential counselor in the fall. At the time, Podesta was discussing with the POLITICO reporter how the White House might shift "the paradigm of Obama's presidency through the forceful, unapologetic and occasionally provocative application of White House power."
The profile goes on detail how Podesta is going to be focused less on policy but on reenergizing "a depleted, exhausted" White House staff—and with them, Obama supporters in key positions who recently, and in an especially unseemly fashion, have been flirting publicly with the notion that President Obama is a spent political force.
With this profile, POLITICO clarifies for a nervous political media establishment that the president is not ramping down, he's amped up. His administration is not down for the count just yet. There is plenty of fight left in this old dog. Nothing tickles political reporters like a comeback – particularly that of a Democratic president ready to battle the unreasonable, recalcitrant Republicans in Congress.
For the press, the message has been received. The fight is back in this administration. Now, the White House waits to see if the media will follow suit.
UPDATE: Following outrage over calling the House GOP a cult on the order of Jonestown, Podesta took to his twitter account to issue an apology:
"In an old interview, my snark got in front of my judgment," he wrote. "I apologize to Speaker [John] Boehner, whom I have always respected."
[Photo via AP]
— —
> >Follow Noah Rothman (@NoahCRothman) on Twitter
Have a tip we should know? tips@mediaite.com