The writers over at Gawker Media are in revolt. Univision bought up their company after Peter Thiel bankrolled its historic demise, kicked the flagship Gawker site to the curb, and got to work Univision-ing the rest of the staff. The off-the-wall posts that the other blogs were known for are becoming more toned-down by the day, but most notably, six articles were deleted from the blogs altogether.
Today, one of those blogs, Deadspin, fought back, finding a clever way to republish some of the articles. They published a lawsuit that had resulted from two of the pieces and just so happened to include all of the original copy in the complaint.
It's like a made-for-TV movie about babysitting. The kids that looked so sweet before Mommy and Daddy left are now banning together to cause a lot of trouble for the uptight straight-A student who was just trying to get some cash and add a new venture to the ol' résumé by looking after them.
Someone else picked up on that vibe and posted the following ad — written from the perspective of the babysitter a Univision exec — to Craigslist: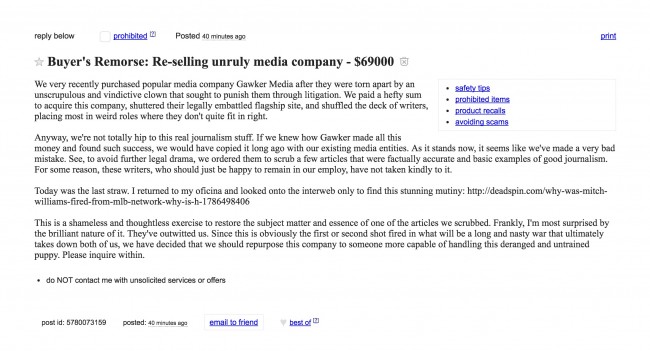 It appears to be the work of a ruffled Gawker Media employee who wants to do a little victory dance or at least the work of an insider of some sort. Look at the references to Univision "[shuffling] the deck of writers, placing most in weird roles where they don't quote fit in right" and not being "totally hip to this real journalism stuff." Inexplicable jabs at Univision's Latin American background are present in the use of the word "oficina" and further jabs at the company's inability to be totally hip are found in the use of "interweb." The selling price of $69,000 adds a nice touch. All in all, this is a well-crafted burn.
Last but not least, it doesn't hurt that the post links back to the "stunning mutiny" of the re-done article.
Let's see what retaliatory tricks the babysitters try next. Will they call up Nick Denton and ask him to talk the kids into a ceasefire or will they end up in a homemade booby trap that places the phone just out of their reach before they can do it?
[image via screengrab]
Have a tip we should know? tips@mediaite.com