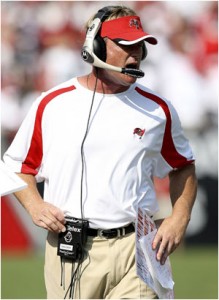 Given that Monday Night Football analyst Jon Gruden could very easily end up as  the next head coach of either the Washington Redskins and Notre Dame, it seems unlikely he'd need his Monday Night Football analyst spot for much longer. Recent reports, though, indicate he indeed signed a new, multi-year deal with ESPN to continue his nascent broadcasting career.
Gruden's initial MNF hire won a stamp of approval from Deadspin founder/editor emeritus Will Leitch, but others weren't so kind once he actually got in the booth. NBC's ProFootballTalk (released before the news of his ESPN extension) offered mixed reviews of his announcing performance, but also concluded he loves the game too much not to get back to coaching soon enough:
As we concluded early in the year, the thing that makes him good on television — his passion for the game — will draw him back to it.  Now that he's apparently trying to position himself for a job, however, his over-the-top effusive praise has been at times even worse than the worst stuff we can recall from Joe Theismann a/k/a Joey Sunshine.
Which begs the question: will he really stay off the sidelines? He released a statement calling his MNF work "the most fun I've had in years," but one look at the guy coaching calls into serious question whether he means it. Also remember money would not be an object for either Notre Dame or the Redskins (if you don't remember, here's what Weis got from Notre Dame less than a season into his tenure…and here are some reminders of what Redskins owner Dan Snyder is willing to spend).
On the other hand, maybe Gruden really is that happy at ESPN. Like the above-mentioned teams, the network doesn't lack for funds, especially when it comes to one of its flagship broadcasts. But no matter how thrilled he is to call the games, as this rant against his MNF skills points out, Gruden is an almost frighteningly passionate man. No matter how much he loves what he does now, it's hard to imagine him satisfied to be on the outside looking in for much longer.
Have a tip we should know? tips@mediaite.com