Jon Huntsman Will Not Attend GOP Convention Until Party 'Put[s] Our Country Before Politics'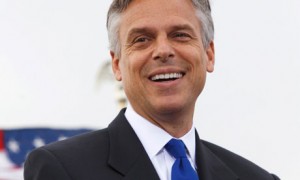 Don't expect to run into Jon Huntsman at the Republican National Convention next month, or at any convention for the foreseeable future, for that matter, until the Republican party gets its priorities straight. Huntsman said in a statement this week that he wants the GOP to "focus.. on a bigger, bolder, more confident future for the United States" before he proudly counts himself among the party's ranks once again.
RELATED: Jon Huntsman: 'Gone Are The Days Where The Republican Party Used To Put Forward Big, Bold Visionary Stuff'
Huntsman, who has not been shy about criticizing his own party since he dropped out of the Republican primary race in January, explained that he will not be joining the GOP in Florida next month to rally behind Mitt Romney, according to The Salt Lake Tribune.
"I will not be attending this year's convention, nor any Republican convention in the future," Huntsman said, "until the party focuses on a bigger, bolder, more confident future for the United States — a future based on problem solving, inclusiveness, and a willingness to address the trust deficit, which is every bit as corrosive as our fiscal and economic deficits…

In a statement this week, Huntsman said he wanted his party to return to its moorings that mirrored his last-minute campaign theme of "Country First."

"I encourage a return to the party we have been in the past," he said, "from Lincoln right on through to Reagan, that was always willing to put our country before politics."
One political scientist observed that Huntsman's announcement could have an impact on his short-term political future, because if he was angling for a position in a Romney administration, "it's doubtful the GOP would be happy with" him in any role.
Have a tip we should know? tips@mediaite.com
Josh Feldman - Senior Editor