Jon Meacham Is Going To Save Newsweek (After He Finishes Taping His New PBS Show)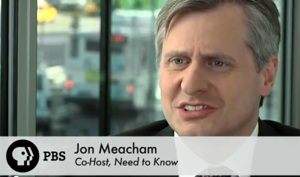 It's fair to say that Jon Meacham currently has a LOT on his plate. As you probably have already heard, Newsweek (the magazine that he oversees) was effectively put on the block by its parent, the Washington Post Company last week. Last week he published a letter from the editor outlining the urgent task ahead (though oddly failing to explain exactly what that task was.) Oh, and last week PBS aired the first episode of Need to Know, his new news magazine on PBS. Perhaps its time for Mr. Meacham to focus on just one project at a time?
As we reported last week, the news that owners of Newsweek were exploring sale of the news weekly didn't necessarily come as a huge surprise to anyone familiar to the ups and downs of magazine publishing. However, the timing of such an announcement was odd: Meacham had previously booked an appearance on The Daily Show, though not to rally support for his magazine, but rather promote his new PBS show (which he co-hosts with former MSNBC anchor Alison Stewart.) The fact that news broke on the day of his appearance to promote a different project not only changed the tenor of the conversation, but raised questions if, in hindsight, Meacham's efforts may have been better used solely focusing on Newsweek, instead of putting together a weekly television program.
In the Letter from the Editor from this week's issue, Meacham explains both the market forces behind the the news of the sale and the restated mission of the magazine. Near the end he uses an odd turn of phrase , that he may come to later regret:
There is a place for NEWSWEEK in some form in a fragmented culture. We represent an opportunity to focus the attention of a large number of people on a single topic. The moment of focus may be fleeting, but there are fewer and fewer common denominators left in American life, and the conversation is not going to be enriched by having fewer still. We are not the only catcher in the rye standing between democracy and the abyss of ignorance and despair. We are one of them, though, and the task now is to find the right economic and digital means to meet our traditional ends while trying to discover a sustainable business model. Our challenges are not unique, but that does not really matter. They are still our challenges, and we must meet them.
Odd that he claims that the very fragmented culture that challenges the existence of Newsweek, is one that he has personally benefited from quite handsomely. Maybe Meacham, the best-selling author who also happens to sit atop Mediaite's Power Grid as the most influential Magazine Editor, should be worried less about his audience's alleged lack of focus and more of his own.
Below is a video clip released on YouTube just ten days ago. In it you will hear Meacham speak about the "challenges of informing an audience" about the "events of a week" and what it says about "citizenship" and a "globalized world" that no has fewers voice on which you can count. In a "gallows humor" sort of way, its actually kind of funny. But also kind of sad.
Have a tip we should know? tips@mediaite.com
Colby Hall - Founding Editor