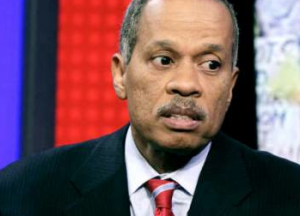 An NPR investigation of the firing of news analyst Juan Williams has determined that the dismissal was "in accordance with the terms" of Williams' NPR contract, which allowed Williams or NPR to end the agreement for any reason with thirty days' notice.
Still, the NPR Board has adopted a series of recommendations and policy changes, and accepted the resignation of SVP of News Ellen Weiss.

Weiss was the NPR executive who informed Williams of his firing, which came after an appearance on Fox News where Williams confessed he was nervous when he saw people in "Muslim garb" on airplanes. NPR claimed the comment was only the latest in a series of disturbing comments Williams had made in recent years, but the firing prompted an avalanche of criticism of NPR–including calls for cutting federal funding of public broadcasting.
The independent review–a committee reporting to the NPR board and working with outside legal counsel–did express "concern" over NPR CEO Vivian Schiller's role in the affair, determining that Schiller will not be awarded a 2010 bonus.
The NPR investigation, which involved thousands of documents and interviews with current and former NPR employees and contractors, but did not include the cooperation of Williams himself. NPR says it extended requests to Williams through his agent and a former NPR colleague, but Williams, NPR says, did not respond.
In a memo to NPR staff, the Board summarized its findings this way:
'We have taken this situation very seriously and the Board believes these recommendations and remedial steps address the concerns raised in connection with the termination of Williams' contract,' said Dave Edwards, Chair. 'The Board regrets this incident's impact on NPR and will work with NPR's CEO, Vivian Schiller, to ensure that these actions will be expeditiously completed, examined, and monitored on an ongoing basis.'
In a second memo, also to NPR staff, Schiller wrote:
This has been a difficult period for all of us. Now is the time to focus on what we can do to make NPR an even stronger organization and a more meaningful part of daily life for the millions who depend on us each week. I am committed to making NPR one of the best places to work and a rewarding experience for all employees.
Have a tip we should know? tips@mediaite.com