Judging Conde Nast's iPad Strategy Through The Prism Of Its Adobe Partnership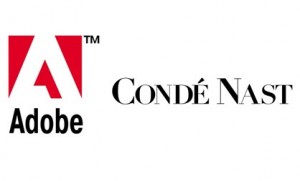 Ten years ago, then-Adobe CEO Bruce Chizen stood before the media industry at Seybold 2001 and presented a vision. No longer would media companies toil to translate a print edition into a web edition and then figure out the burgeoning world of mobile devices. Adobe had a system: network publishing. Create one set of assets and publish them anywhere, using the Adobe suite of tools.
If anyone could do it, Adobe could. Company founders John Warnock and Chuck Geschke brought the world desktop publishing – a concept now so familiar that it doesn't require explanation. Create a document, hit print; what comes out is what you see on your screen. Adobe would now bring that simplicity to print, the web, video, mobile devices – without having a separate workflow for each medium.
To accompany this bold vision, Adobe developed a press toolkit and embarked on a worldwide tour to share the vision with publishers in Munich, Paris, London, and Tokyo. (Then an Adobe employee, several others, and I joined him.) The effort was summed up with this video:
Create once, publish anywhere.
It was ambitious. Including mobile devices was premature – part of the wizardry of the live demonstration on the tour was showing a brand-new Nokia model that could actually display a very low-res video.
Then came the iPad. Last year, the company produced this video.
That value proposition seem familiar? Using Adobe tools, you can port your magazine content – now, to a mobile device that can handle it, the iPad.
If only it were that easy.
Earlier this week, the New York Observer blasted Conde Nast – and, in particular, Scott Dadich, the company's vice president of digital magazine development – for the "stalling out" of the company's much-touted strategy to transition its properties from print to the iPad.
When that strategy was first proposed, though, Dadich was seen as a "savior" to the company – at least according to… the Observer. The hagiography went something like this: Dadich (in a San Francisco coffee house, natch) has a vision for an interactive version of Wired that could leverage a then-nonexistent tablet. He sketches it on a napkin, and the company signs on.
Dadich starts working with Adobe on a demo, running on the Adobe AIR platform, powered by Adobe Flash. A demonstration of what an interactive Wired could look like debuts at SxSW in March, 2010 – to rave reviews. A star is born.
By that point, Apple had announced the iPad – and that the iPad would not run Adobe Flash. The ubiquity of Flash meant that Wired's in-house designers already knew the technology; it's what traditionally powers online interactivity. Now, though, a version of Wired for the iPad will have to come in another form – a form that's novel for both Conde Nast and Adobe. The first edition of Wired for iPad comes out in May 2010; lauded by Adobe and to decent reviews. In October, the companies form an official partnership.
Meanwhile, Adobe is struggling to make its value proposition real. It pledges to Conde Nast that it can use variants of its existing publishing suite, including InDesign, to produce magazine versions for the iPad (and other platforms). Create once, publish anywhere. But as they're developing the first Conde Nast apps, Apple keeps changing the rules for iPad publishing – at one point, even specifically disallowing Adobe's nascent publishing tool. Developing software takes time, even when the rules are set. Here, Adobe was trying to adapt existing tools to present content on a platform that was brand new and outside of its control. Meanwhile, the company had to continue to assert that it could make the Conde Nast transition happen to demonstrate the value of the tools it was still building.
Dadich clearly didn't expect these roadblocks. The Observer notes:
Mr. Dadich made it all sound simple. "What we're going to do is have workflow specialists come in, so it'll be actually less work," a source recalls him saying.
Those "workflow specialists" aren't identified. But it's easy to assume that they came up from Adobe's San Jose headquarters. A report from Business Insider goes to an an insider who says that "while 'there was a real collaboration between his team and Adobe' and '[Dadich] really oversaw the design,' Adobe handled the technical details." Which they'd have to: the in-house team couldn't create interactive tools natively in Flash, so they'd be reliant on Adobe's still-in-development Flex platform.
In the initial video promoting the tablet version of Wired, Dadich notes that it's "just adding one more avenue" – though the complexity of the displayed belies the simplicity of that statement.
At the SxSW presentation, Dadich lauded the existing team who'd be tasked with producing the multiple versions. Reuters' Felix Salmon noted:
Dadich kicked off his presentation by showing a photo of the large art and design team at Wired, and noting that the website can't boast anything like that kind of staffing dedicated to making articles look good and read well online.
Dadich clearly thought that team, in partnership with Adobe, would be enough. From the Observer:
[T]here would be no dedicated hires. Instead, existing art and production staffers from the print side would be responsible for making two iPad layouts (one in portrait and one in landscape, per Mr. Dadich's vision) on Adobe's platform.
The core question is: why would he think the existing team would suffice?
The expectations put on Dadich were massive, to be sure, and he appears to have made a commitment to bringing in tablet versions of Conde Nast properties with a substantial injection of resources. But he was working with a partner that, for the past decade, has predicated its value to publishers in large part on facilitating precisely these sorts of transitions. (It is worth noting that the first iPad app of Wired was nothing short of a huge success, selling more than 100,000 downloads at full newsstand price, which outpaced the newsstand sales of its analog version.)
Network publishing, after all, never really worked. There are significant platform differences between print and the web, and obvious content differences between video and text. Having a pool of assets from which different media could draw is valuable, but the presumption that you could create once and publish anywhere – in a way that is easier and less resource intensive than having different production streams – hasn't panned out. And doesn't seem likely to any time soon – particularly on immature and new platforms. What tablets bring to the publishing world is a both new platform and new forms of content. It's adding to the difference pool, not reducing it, and differences add time.
Caught between lofty expectations from his employer (and his peers in publishing) and a company publicly committed to using Conde Nast as a proof-of-concept, Dadich had very little room to maneuver. Publishing on the iPad hasn't stopped; Wired and the New Yorker keep appearing to customers, as expected. But the grand vision of a simple multi-platform publishing system powered by Adobe tools has been elusive.
Just as it has been for a decade.
Philip Bump is an expert on many digital publishing platforms. He used to be a senior designer at Adobe Systems, Inc., makers of inDesign, Flash and Photoshop.
Have a tip we should know? tips@mediaite.com