Justice Department Files Lawsuit Against Florida Over Purging Of Voter Rolls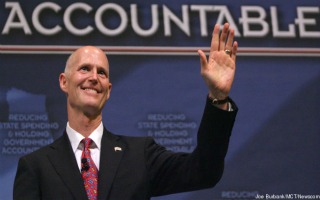 On Tuesday, the Department of Justice followed through with their promise to sue the state of Florida over their controversial purging of the state's voter rolls. But Florida has also filed a law suit and the state's lawmakers are promising to follow through with their pursuit of ineligible voters.

RELATED: FL Gov. Rick Scott Defends Voter Registration Push On CNN: 'Homeland Security Has Been Stonewalling'
The DoJ filed the civil suit in a federal court in Florida's Northern District. The suit alleges that Florida is in violation of the National Voter Registration Act.
"Congress enacted the NVRA against a historical backdrop in this country in which purge programs initiated close to elections prevented and deterred eligible citizens from casting ballots," writes the Department of Justice's head of the Civil Rights Division, Assistant Attorney General Thomas Perez. "The 90-day quiet period in the NVRA protects eligible voters from being dropped from the rolls right before an election. It appears that Florida has undertaken a new program for voter removal within this 90-day period that has critical imperfections, which lead to errors that harm and confuse eligible voters."
Florida is not taking the federal government's move lying down. The Florida Secretary of State, Ken Detzner, filed a lawsuit against the Department of Homeland Security on Tuesday to gain access to the state's citizenship database. The move signals the state government's intention to continue purging voters from the rolls who are no longer eligible to vote in the Sunshine State.
Florida's WTSP quotes Detzner saying that he is not looking out for his party's political interests, but those of the state's voters who he insists are demanding their vote be secure:
"My job as secretary of state and chief elections officer is to follow the letter of the law and to make sure our voter lists are clean without any noncitizens voting in this fall's election," said Detzner. "I've spoken to many people and every time I speak to them they tell me 'Please do not let my vote be neutralized by a noncitizen voting' and so that's my job. It's not a Republican job. It's not a Democrat job. It's the job of the secretary of state."
h/t Talking Points Memo

Follow Noah Rothman on Twitter
Have a tip we should know? tips@mediaite.com