Kaepernick Unfazed by Bottle Throwing Bills Fan: 'If They Did, They Didn't Have Very Good Aim'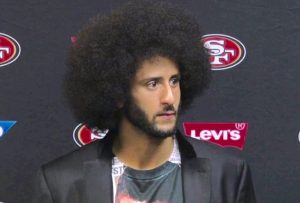 Sunday marked the first time San Francisco 49ers quarterback Colin Kaepernick started under center since he began his National Anthem protest against racial oppression. While Kaepernick received some support inside and outside Buffalo's New Era Field before and during Sunday's game between the 49ers and the Bills, a high number of fans demonstrated anger towards the 49ers QB in a variety of ways.
T-shirts were sold with the image of a rifle scope imposed over a picture of the 49ers signal caller:
Shirts with a rifle scope trained on Colin Kaepernick selling for $10 outside of Ralph Wilson stadium. pic.twitter.com/bSuxF3G5qq

— Robert Klemko (@RobertKlemko) October 16, 2016
And fans tackled a dummy with a Kaerpernick jersey in the stadium parking lot before the game:
Here's a very drunk Bills fan spearing a dummy with Kaepernick jersey and afro wig. pic.twitter.com/PDo0NL2Pcp

— Robert Klemko (@RobertKlemko) October 16, 2016
There was also a report that Kaepernick may have had a bottle thrown at him. In the postgame news conference Sunday, Kaepernick said he was unaware of such an incident.
"If they did, they didn't have very good aim," Kaepernick said.
In general, Kaepernick said that he's received fewer death threats than he did when his protest began on Aug. 26.
"Those are rare occurrences now," Kaepernick said. "I think for the most part people are realizing the impact and what's going on, and like I said from the beginning, I knew the consequences of what could come with this, and I was prepared for that."
The crowd chanted "USA! USA!" during the Anthem, as Kaepernick once again took a knee. The quarterback said that he considers his gesture to be patriotic.
"I don't understand what's un-American about fighting for liberty and justice for everybody, for the equality this country says it stands for," Kaepernick said. "To me, I see it as very patriotic and American to uphold the United States to the standards that it says it lives by."
On the field, Kaepernick went 13-19 for 187 yards and one touchdown in the 49ers 45-16 loss. San Francisco head coach Chip Kelly said his quarterback did an "okay job," and gave no indication that Kaepernick wouldn't continue to start going forward.
[image via screengrab]
–
Follow Joe DePaolo (@joe_depaolo) on Twitter
Have a tip we should know? tips@mediaite.com
Joe DePaolo - Senior Editor