Keith Olbermann Says His Exec. Producer "Got A Promotion" With New O'Donnell Job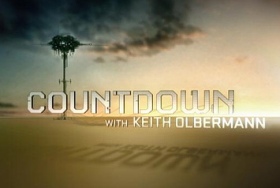 MSNBC's Keith Olbermann weighed in on the Monday announcement his longtime Executive Producer Izzy Povich was moving to Lawrence O'Donnell's future 10pmET show.
On Twitter last night, he responded to the "conspiracy theory" by saying the new job is a "PROMOTION" for Povich.
Olbermann tweeted:
My EP got a PROMOTION to a job that doesn't exist on Countdown: Senior EP, developing show from scratch. Anybody saying otherwise is lying.
The release Monday did note the title of Senior EP, which presumably was higher than just EP. And as the show still doesn't have a launch date, there will likely be a developmental role there. In the same release, MSNBC described Povich's former Countdown job as overseeing "all editorial content for the show" – so its not clear how she could be doing any more on the new show once it launches. We've reached out to MSNBC for further clarification of the shuffling, and if there are any updates to Olbermann's EP search.
Olbermann tweeted before "let's nip in the bud the latest conspiracy theory being pushed tonight by Murdoch about my EP leaving for Lawrence's new show."
It appears he was referencing this Page Six item today:
We asked in May: "Which producer for a dorky cable anchor has been complaining to colleagues that she's tired of his notoriously nasty behavior?" The answer came Monday when MSNBC announced that Izzy Povich, executive producer of "Countdown with Keith Olbermann" since 2004, had been named senior executive producer of Lawrence O'Donnell's program, which debuts this fall at 10 p.m. Izzy, the daughter-in-law of Maury Povich and a mother of two, had no comment.
(According to a 2009 Broadcasting & Cable profile, Povich would be Maury's niece-in-law.)
Olbermann implies others are "lying" if they categorize this move as anything other than a promotion. But even if that is true, it doesn't make the Page Six item false. What led to this promotion is very much unclear – and whether Povich was looking for an exit because of "nasty behavior" at the show is not addressed. TVNewser reports another staffer at Countdown is leaving for MSNBC dayside.
• Side note – Olbermann and I had a little back and forth on Twitter Monday night, when I asked for his comment regarding this story. He didn't want to address it directly at the time, but I'm glad to see he has now addressed the matter.
—–
» Follow Steve Krakauer on Twitter
Have a tip we should know? tips@mediaite.com