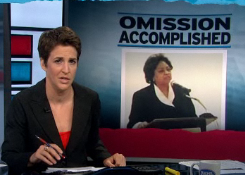 Considering the determination Rachel Maddow showed in covering the ins and outs of the ACORN story it was not a surprise when she jumped right into the Shirley Sherrod video debacle last night and tied the two incidents together.
Back in April, at the end of a long expose on the edited ACORN video clips which resulted in the downfall of the organization, Maddow concluded "it was a dishonest political stunt that bears not resemblance to journalism…means be damned, it worked. Who do you think is next on that list?"
Said Maddow last night: "Today we got an answer to that question, which I hoped at the time was just a rhetorical one."
Interestingly, Maddow had much harsher words for Fox News (and a series of damning clips) than she did for Andrew Breitbart, who initially obtained and released the clip (also the ACORN clips). Said Maddow:
What is not really interesting about this whole situation is that Fox News is doing this. This is what Fox News does, this is how they are different from other news organizations. This is why the White House argued months ago that Fox News should be treated as a media organization but not as a normal news organization. They don't treat news the way a normal news organization treats news. Just like the fake ACORN controversy Fox News knows it has a role in this dance. That's not new, that's not even actually interesting.
I'm not remotely convince that it's uninteresting to Maddow or anyone else, that said what she does find interesting right now, and what is clearly going to be the larger scandal here for so many reasons is that "the Obama administration keeps falling for it." Maddow lists Van Jones, ACORN, and now Sherrod as "cooked up" scandals the Obama administration has overreacted to.
"If you feed that dog at the table, you are encouraging that dog to beg at the table….who do you think is next on their list."
Watch below.
Have a tip we should know? tips@mediaite.com