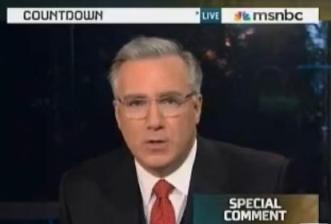 After his show last night, Keith Olbermann took to The Daily Kos to, once again, address all the various storylines that have come from the supposed GE-FOX deal.
Will it quiet his critics this time? No. But it gave an insight into the new direction the MSNBC host is going when it comes to dealing with the deal.
Here's Olbermann addressing the "deal" specifically:
…is there a deal? No. If one of the generals in the field says there's no deal, he's still fighting, he's still firing, this statement should be given a little more weight than those of "insiders" or corporate spokesmen.

…was there a deal? Based on what I'm reading, there are 94 different answers to that within a company I might work for, and more at another company. All I can say for sure is: I made no deal.
Although it's not entirely clear, it sounds like Olbermann is saying there are "94 different answers" within NBC whether there ever was a deal. And there certainly is no longer a deal, as Olbermann took on Glenn Beck during his Special Comment last night and more entities at FNC throughout the show. But here's the kicker:
Also, by the way, nearly everything in the last two pieces in The New York Times was leaked directly by Roger Ailes, especially his pathetic vision of having masterminded a deal in which he muzzled his entire network and sold out whatever the hell he thinks news is. If Ailes had any remaining credibility as a newsman, that's out the freaking window now.
"Nearly everything" in these two New York Times pieces was leaked by Ailes himself, according to Olbermann.
These are stories that include quotes from GE, that indicate a storyline coinciding with the rest of the NYT story. In the initial article, GE spokesperson Gary Sheffer says, "We all recognize that a certain level of civility needed to be introduced into the public discussion…we're happy that has happened."
In the 2nd NYT story: "While both companies agreed that the tone should be more civil, no one at G.E. told anyone at NBC News or MSNBC how to report the news."
Nowhere does this show a secret Roger Ailes plot to feed the story to the New York Times – a newspaper that has never had a buddy-buddy relationship with Ailes' network. Instead, it's a way for Olbermann to change the topic.
But the story isn't going away – here's two more reasons why.
> Update: Brian Stelter, who wrote both of the NYT stories, responds to Mediaite: "It's unfortunate that Keith Olbermann is now engaged in an anonymous source guessing game. But it would also be unfortunate to let the accusation stand that 'nearly everything' in the Times stories about the ceasefire was 'leaked directly by Roger Ailes.' If Mr. Olbermann had asked me, he would know that I have communicated with Mr. Ailes only once: and that was in 2004."
Meanwhile on the FNC side of 8pmET, Bill O'Reilly teased a segment comparing GE and Enron, but it never aired. We'll have more on that later today… (the post is here)
Have a tip we should know? tips@mediaite.com