Kellyanne Conway Warns Harry Reid to 'Be Very Careful' About Characterizing Trump as a Bigot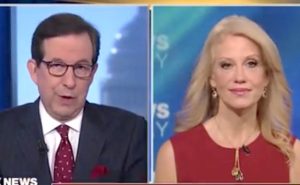 On Fox News Sunday, Kellyanne Conway seemed to get a bit irritated while she addressed those who have condemned and protested the victory of President-Elect Donald Trump.
After asking Conway about Trump's White House staff appointments and his recent comments about the Affordable Care Act, Wallace asked about how the mogul intends to reach out to those who fear and are protesting him across the country. Conway argued that Trump already made the call for Americans to come together, and that it's hypocritical and un-democratic for demonstrators to contest the results of Election Day.
Wallace also asked Conway how she felt about outgoing Senate Minority Leader Harry Reid, who penned a blistering statement about how it's Trump's responsibility to address the "bigotry and hate" his campaign enflamed.
"I find Harry Reid's public comments and insults about Donald Trump and other Republicans to be beyond the pale. They're incredibly disappointing," Conway said. "He should be very careful about characterizing somebody in a legal sense…I would say be very careful about the way you characterize it."
Wallace took note of that and asked Conway if Trump might consider suing Reid over his comments. Conway said that that wasn't the case, but Reid is "acting like a garden variety political pundit," when the country should focus on a peaceful transition.
"This has to stop," Conway insisted before ripping into anti-Trump protesters for acting under "nefarious conditions."
Watch above, via Fox.
[Image via screengrab]
— —
>> Follow Ken Meyer (@KenMeyer91) on Twitter
Have a tip we should know? tips@mediaite.com